French presidential candidate Emmanuel Macron is a "fake news" target of Russian media and his campaign is facing thousands of cyber attacks, his party chief has said.
Richard Ferrand, secretary-general of Mr Macron's En Marche! (Onwards!) party, said that Russian state-controlled media Russia Today and Sputnik had spread false reports with the aim of swinging public opinion against Mr Macron.
The Kremlin has denied it was behind the media and internet attacks.
Kremlin spokesman Dmitry Peskov said charges made by Mr Ferrand, were absurd.
           
"We didn't have and do not have any intention of interfering in the internal affairs of other countries, or in their electoral processes in particular," Mr Peskov told reporters.
An independent centrist, Mr Macron has surged in campaigning for the French election and opinion polls make him favourite to win election in May.
Mr Ferrand said that Mr Macron, as a staunch pro-European, was a Russian target because he wanted a strong united Europe that had a major role to play in world affairs.
Sputnik earlier this month ran an interview with a conservative French politician accusing Mr Macron, a former investment banker, of being an agent of "the big American banking system".
"Two big media outlets belonging to the Russian state Russia Today and Sputnik spread fake news on a daily basis, and then they are picked up, quoted and influence the democratic [process]," Mr Ferrand said.
Russia Today said it rejected allegations it spread fake news in general and in relation to Mr Macron and the forthcoming French election.
"It seems that it has become acceptable to level such serious charges at Russia Today without presenting any evidence to substantiate them, as well as to apply this 'fake news' label to any reporting that one might simply find unfavourable," the news channel said in a statement.
Russian newspaper Izvestia has also reported comments from Wikileaks founder Julian Assange who said his organisation had "interesting information" about Mr Macron, who opinion polls say would easily beat far-right leader Marine Le Pen in a 7 May runoff.
In addition, Mr Ferrand said the Macron campaign was being hit by "hundreds if not thousands" of attacks probing the campaign's computer systems from locations inside Russia.
Calling for government action to prevent foreign meddling in the election campaigning, Mr Ferrand said: "What we want is for authorities at the highest level to take the matter in hand to guarantee that there is no foreign meddling in our democracy.The Americans saw it but it came to late."
US intelligence agencies said in a report last month that Russian President Vladimir Putin had directed a cyber campaign to help Republican Donald Trump's electoral chances by discrediting Democrat Hillary Clinton in the 2016 presidential campaign.
French Defence Minister Jean Yves Le Drian promised last month to boost military resources to fight foreign cyber attacks, acknowledging that France was no less vulnerable than the United States.
In an election campaign which has sunk into smear and sleaze, Mr Macron on 7 February was also forced to kill rumours of a gay relationship outside his marriage to Brigitte Trogneux.
The media reports about Mr Macron emerged from Russia as erstwhile poll favourite Francois Fillon, a conservative who speaks positively of Mr Putin, was hit by a scandal which has badly affected his election chances.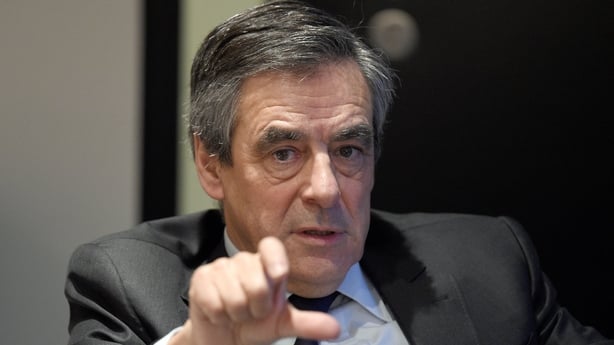 He has seen his poll lead evaporate following French press allegations that his wife had been paid for being his parliamentary assistant without doing any real work.
Mr Fillon's decline has put Mr Macron in a position to make it into a 7 May runoff vote, where polls see him winning by a large margin against far right leader Marine Le Pen, who has received funds in the past from a Russian lender and pledged to have good relations with Russia if elected.