The UN Security Council on Monday unanimously condemned North Korea's latest ballistic missile launch and threatened to "take further significant measures" against it.
Council members including China, North Korean's main ally, agreed on a US-drafted statement describing the test-firing of the missile as a "grave violation" of UN resolutions.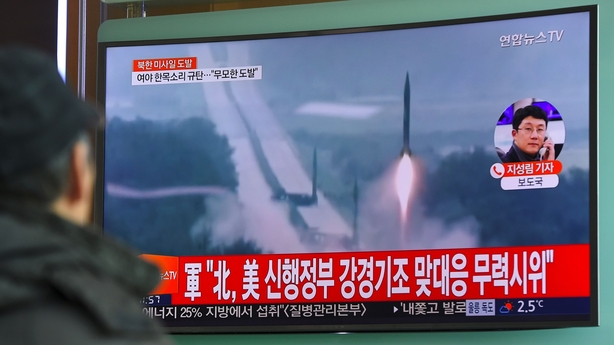 The US, Japan and South Korea requested the urgent meeting after North Korea announced it had successfully tested a new missile on Sunday, the first launch since US President Donald Trump took office.
"We call on all members of the Security Council to use every available resource to make it clear to the North Korean regime - and its enablers - that these launches are unacceptable," US Ambassador Nikki Haley said in a statement.
"It is time to hold North Korea accountable - not with our words, but with our actions."
At a Washington news conference just hours before the council meeting, Mr Trump described North Korea as a "big, big problem" and vowed: "We will deal with that very strongly."
The latest missile, said by North Korea to be able to carry a nuclear warhead, flew east for about 500km (310m) before falling into the Sea of Japan (East Sea), South Korea's defence ministry said.
North Korea is barred under UN resolutions from carrying out ballistic missile launches or nuclear tests. 
But last year, it conducted two nuclear tests and numerous missile launches in its quest to develop a nuclear weapons system capable of hitting the US mainland.
The Security Council has imposed six sets of sanctions since North Korea first tested an atomic device in 2006.