The health service faces serious industrial disruption next month after the Irish Nurses and Midwives Organisation voted to commence a work-to-rule from Tuesday 7 March, with the prospect of rolling strikes from the following week.
The union, which represents around 35,000 nurses, said HSE proposals had not gone far enough to persuade members that management was serious about addressing the staffing shortfalls, and the requirement for incentives to ensure recruitment and retention of nurses.
Under the indefinite work-to-rule commencing in March, nurses will refuse to do overtime, cross cover or redeploy from ward-to-ward to plug gaps, but will provide the normal range of duties on their allocated wards.
If the dispute escalated to rolling strikes from 13 March, they would be focused on the acute hospitals.
General Secretary Liam Doran acknowledged that the industrial action would lead to bed closures and contracting of work, with potentially more patients on trolleys and longer waiting lists.
Mr Doran said the proposals were too little too late, and failed to ensure that employers here could compete with the private sector here and in other jurisdictions which were attracting nurses.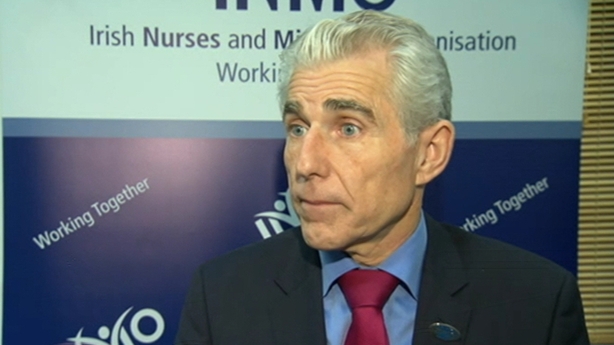 Members were no longer prepared to work in unsafe environments, as they were burnt out and overstretched in a depleted workforce, he said.
He rejected suggestions that the dispute was about money, saying it was not unreasonable to expect nurses to be paid when they did not get a meal break, or to be given study leave.
Mr Doran confirmed they had sought that a broad range of allowances abolished for new entrants during the financial crisis to be restored to the recent recruits, but management had refused this.
Before Christmas, INMO members voted by 90% to take industrial action up to and including 12-hour stoppages.
On hearing the INMO decision, the Department of Health issued a statement saying Minister for Health Simon Harris and Minister for Public Expenditure and Reform Paschal Donohoe were both "deeply disappointed".
It added: "There will be no further comment at this time pending a meeting of the Lansdowne Road Agreement Oversight Group, which will take place tomorrow and where the issue of the consequences of the proposed industrial action by the INMO will be considered."
In a statement, the HSE said it was disappointed with the outcome of the talks with the INMO.
It said the HSE had engaged in extensive discussions for a period of three weeks and made significant progress on a number of issues.
The statement said the HSE had noted the INMO comments and remains open for dialogue.
Meanwhile SIPTU, which represents a further 4,000 nurses, is also likely to ballot its members for strike action over staffing levels.