Syria's President Bashar al-Assad has said that "defending" his country in a time of war was more important than any international tribunal that may be brought against his government later.
His comments to Belgian media came as rights watchdog Amnesty International accused the regime of hanging 13,000 at an infamous prison near Damascus.
According to an English-language transcript of the interviews published by Syrian state news agency SANA today, Mr Assad accused United Nations institutions of acting unfairly towards his country.
"We all know that the United Nations institutions are not unbiased, they are biased because of the American influence and the French and British, mainly," he said.
"They are only politicised to implement the agenda of those countries," he added.
Syria's conflict first broke out in March 2011 with widespread protests that descended into violence.
Asked whether he was concerned about a potential court case brought against the regime at the UN's highest court in The Hague, Mr Assad said he and other Syrian officials "don't care".
"For me, as president, when I do my duty, the same for the government and for the army, to defend our country, we don't look to this issue, we don't care about it," he said.
"We have to defend our country by every mean, and when we have to defend it by every mean, we don't care about this court, or any other international institution," Mr Assad added.
The UN General Assembly in December agreed to begin gathering evidence on war crimes in Syria as a first step towards prosecuting those responsible for atrocities there.
At the time, Syria's Ambassador Bashar Jafaari slammed the measure, calling it a "flagrant interference in the internal affairs of a UN member-state".
But in a new report published today, Amnesty International said Syria's government had carried out a deliberate "policy of extermination" at the Saydanaya military prison.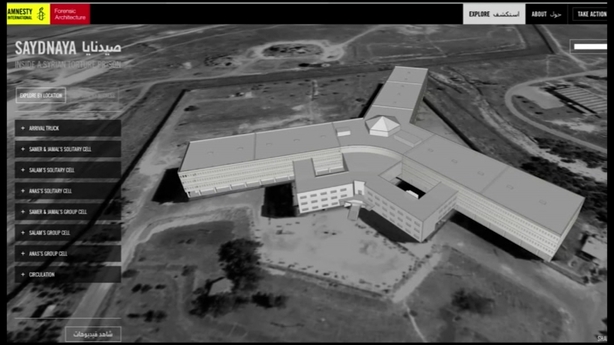 The report found that as many as 13,000 people were killed in mass hangings at the facility between 2011 and 2015.
The rights group accused the regime of a "policy of extermination".
The report on Saydnaya prison is based on interviews with 84 witnesses, including guards, detainees, and judges.
Warning: Disturbing content
It found that at least once a week between 2011 and 2015, groups of up to 50 people were taken out of their prison cells for arbitrary trials, beaten, then hanged "in the middle of the night and in total secrecy".
"Throughout this process, they remain blindfolded. They do not know when or how they will die until the noose was placed around their necks," the rights group wrote.
Amnesty said the practices amounted to war crimes and crimes against humanity, but were likely still taking place.
Thousands of prisoners are held in the military-run Saydnaya prison, one of the country's largest detention centres located 30km north of Damascus.
Amnesty accused the Syrian government of carrying out a "policy of extermination" there by repeatedly torturing detainees and withholding food, water and medical care.
Prisoners were raped or forced to rape each other, and guards would feed detainees by tossing meals onto the cell floor, which was often covered in dirt and blood.
A twisted set of "special rules" governed the facility: detainees were not allowed to speak and must assume certain positions when guards enter their cells.
The group has previously said that more than 17,700 people were estimated to have died in government custody across Syria since the country's conflict erupted in March 2011.
The figure of 13,000 deaths in a single prison, therefore, is a marked increase.
"The horrors depicted in this report reveal a hidden, monstrous campaign, authorised at the highest levels of the Syrian government, aimed at crushing any form of dissent within the Syrian population," said Lynn Maalouf, deputy director for research at Amnesty's Beirut office.
"The cold-blooded killing of thousands of defenceless prisoners, along with the carefully crafted and systematic programmes of psychological and physical torture that are in place inside Saydnaya Prison cannot be allowed to continue," she said.
A probe by the UN last year accused Mr Assad's government of a policy of "extermination" in its jails.
More than 310,000 people have been killed and millions have fled their homes since the conflict began with anti-Assad protests.
We need your consent to load this rte-player contentWe use rte-player to manage extra content that can set cookies on your device and collect data about your activity. Please review their details and accept them to load the content.Manage Preferences