The Chair of the Citizens' Assembly, Ms Justice Mary Laffoy, has defended her selection of speakers for its meetings to date on the Eighth Amendment.
The Citizens' Assembly met again today to continue its considerations of the Eighth Amendment of the Constitution, which defends the right to life of the unborn with due regard to the equal right to life of the mother.
Yesterday, the Pro Life Campaign accused the body of completely ignoring what it said were the amendment's positive impacts on Irish society.
During her closing remarks to the assembly's weekend session, the Supreme Court judge told the assembly members it had been important for them to receive a solid grounding in the legal, medical and ethical considerations surrounding the amendment and that they be first presented with what she termed "the factual underlay" of the issues which could arise.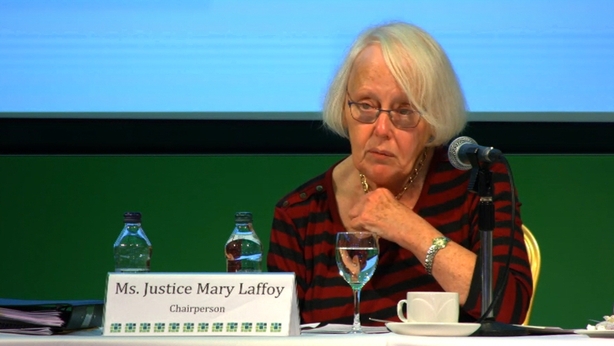 She said she had decided to do this by selecting speakers who were highly experienced and expert in their respective fields, but who had not expressed a viewpoint or position on the Eighth Amendment.
She said she had also set out to ensure that speakers with connections to organisations which are regarded as promoting one side of the issues would be asked to present a factual narrative of the position on the ground.
Her remarks have been seen as a thinly veiled response to yesterday's statement from the Pro Life Campaign which specifically criticised the assembly's decision to invite the British Pregnancy Advisory Service and the New York-based Guttmacher Institute to address it this weekend, accusing both groups of having deep roots in the abortion industry.
Today's session commenced with a debate between pro-life and pro-choice specialists on the ethical aspects of abortion.
Dr Donal Ó Mathúna, senior lecturer in Ethics, Decision-Making and Evidence at Dublin City University, told the assembly the issue of autonomous decision-making about abortion was unfair to the unborn.
"Where is the fairness in this for the unborn who are totally without power? Relational autonomy holds that in relationships we must consider our responsibilities towards others, not just our rights.
"Relational autonomy recognises that we live in relationships, where our choices impact others and are impacted by others. Partners, children, parents, friends, even society, influence and are influenced by our decisions. We do not live in autonomous bubbles, bouncing off one another. Relational autonomy means we still make our choices, but we have ways to consider if they are ethical," he said.
We need your consent to load this rte-player contentWe use rte-player to manage extra content that can set cookies on your device and collect data about your activity. Please review their details and accept them to load the content.Manage Preferences
He said the unborn were "one group of humans least able to express autonomy" and, if given the opportunity, could become autonomous and live their lives.
Dr Joan McCarthy of University College Cork, however, said the Eighth Amendment tramples on women's autonomy rights and poses serious risks to the mental and physical health of pregnant women.
She said the amendment requires of expectant mothers a self-sacrifice that is unreasonable and unjust.
She said her pluralist position is to leave Dr Ó Mathúna free to espouse the values he wishes and to leave room for others to espouse different values.