Bus Éireann's acting Chief Executive Officer Ray Hernan has confirmed that the company wants to reduce its cost base by €30 million per year, with payroll costs accounting for 40% of that reduction.
In an exclusive interview with RTÉ News, Mr Hernan said he was prepared to meet the unions anywhere, any time and without preconditions in a bid to resolve the dispute over a cost reduction survival plan.
Earlier, Bus Éireann unions confirmed that they will commence an all-out indefinite strike on 20 February if management proceeds with threatened cuts in pay and conditions on that date.
Mr Hernan said that if the unions had proposals which could deliver the level of savings that were required by the company, he would be happy to consider them.
He said the company had no intention of cutting basic pay - but needed to secure savings from staff efficiencies, productivity  and reductions in premium payments which were excessive compared to what was out there in the marketplace.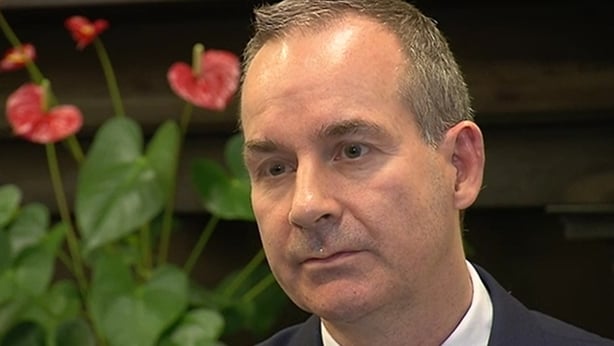 Asked about how draconian the cuts were, he said his priority was to save 2,600 jobs at a company which could face insolvency by the end of the year - adding that the proposed cuts were aimed at safeguarding those jobs.
He was unable to confirm how many redundancies might be required ahead of a root and branch review of all structures, which is due to be completed by the end of March.
Asked about whether settlement talks should include the National Transport Authority and the Department of Transport - a key union demand - Mr Hernan said he did not think that at this time the Department or the NTA had anything to add to the process.
Bus Éireann's Acting Chief Executive Officer Ray Hernan says payroll will account for 40% of €30m annual savings wanted at the company. pic.twitter.com/HVwdTrFaql

— RTÉ News (@rtenews) February 2, 2017
The decision to engage in an all-out strike was taken at a meeting of union leaders earlier today.
"It was clearly felt that Bus Éireann, by setting out on a course for major confrontation with workers, have also decided to ignore the wishes of the majority of those democratically elected to Dáil Éireann, not to unilaterally impose changes without the agreement of from its own staff," a statement read.
The statement continued: "It remains a matter for Bus Éireann to decide if it wants to run the risk of bringing travel chaos to bear on the communities it is obliged to serve, or enter meaningful talks with the Trade Union Group without preconditions".
Minister for Transport Shane Ross has criticised the decision, saying "a strike will be very damaging to the travelling public, the workforce, rural communities and the company itself."
Speaking after the meeting, SIPTU's Greg Ennis said he proposed cuts were an unprecedented attack on the terms and conditions of their members.
He also said it was an attack on the rural infrastructure of the State and the public transport service.
NBRU General Secretary Dermot O'Leary said there was a now a two week opportunity where, he said, the company could step back from the brink and come to their senses.
We need your consent to load this rte-player contentWe use rte-player to manage extra content that can set cookies on your device and collect data about your activity. Please review their details and accept them to load the content.Manage Preferences
Mr O'Leary said unions were willing to meet with the company but preconditions had to be set aside.
He said unions remain convinced that if the dispute is to be resolved, there has to be buy-in from all stakeholders, including from the Minister for Transport and the NTA.
The NBRU said school buses will not be affected at this time.
Earlier Mr O'Leary ruled out talks while the company refused to withdraw the proposed cuts in terms and conditions, which he described as a precondition to negotiations.
Fianna Fáil Bus Éireann motion passes Dáil
This afternoon, Fianna Fáil's private members motion regarding the funding of Bus Éireann was carried.
The motion sought adequate funding of the Public Service Obligation routes, to review the funding of the Free Travel Scheme and to strengthen the public transport service.
Fianna Fáil voted with Sinn Féin against the Government's counter motion, which agreed with large parts of Fianna Fáil's one but stressed the need for the company and trade unions to negotiate on changes to prevent the possibility of industrial action.
A Labour amendment, which sought to ensure a level playing field for all operators and the safeguarding of workers, was also carried.