Stephen Donnelly has defended his decision to join Fianna Fáil, saying he could remain "on the margins" or stand up at a time of "national crisis".
The Wicklow TD's application to join the party was accepted earlier today. He is to be Fianna Fáil's Brexit spokesman, with a frontbench role.
Mr Donnelly left the Social Democrats last year after disagreements with co-leaders Catherine Murphy and Róisín Shortall.
He was a founder member of the Social Democrats, having been elected as an independent in 2011.
He had favoured entering discussions about government formation last year and there had been speculation about a position for him as a junior minister after he left the Social Democrats.
Speaking on RTÉ's Drivetime, Mr Donnelly said Fianna Fáil stood out to him as a party advocating "more investment, a more stable tax base and greater support for businesses."
He described party leader Micheál Martin as "a self-confessed Republican social democrat" and himself as "a proud social democrat", so there is "no issue there", he said.
He said he was very proud to have been involved with founding the Social Democrats but claimed that "it was not working".
However, he was also forced to accept comments he made about his new party before joining them.
Drivetime host Mary Wilson quoted his comments from an article he wrote for the Sunday Independent in January 2014 called 'Irish Water: More public money flushed down the toilet' where he described Fianna Fáil as "a party with a culture of jobs for the boys, bonuses for the boys, lack of accountability and two fingers to the Dáil".
In reply, Mr Donnelly said: "It doesn't sound like the kind of language I use, I don't believe I wrote those words".
When it was pointed out to him that comments were available on his own website, he said: "I stand corrected."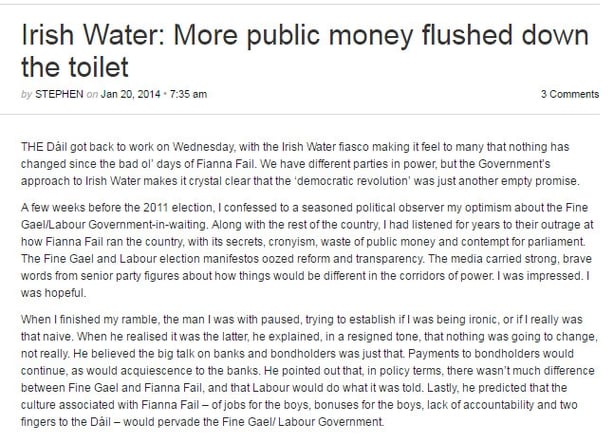 Mr Donnelly said he faced a very simple question as an Independent TD - to advocate as best he can at the margins or stand up and work for the country.
He said his aim is to serve the country as best he can and represent his constituents.
The Wicklow TD added that he was not seeking power and had not been promised anything.
FFs new recruit pic.twitter.com/mi8D5gzsH7

— ddp (@theddp) February 2, 2017
Earlier Mr Martin welcomed Mr Donnelly to the Fianna Fáil Parliamentary Party saying he has "made a serious impact nationally in his time as a TD".
Mr Martin added that new Fianna Fáil member has "demonstrated a commitment to the principles of fairness and social democracy that underpin the values and policies of the Fianna Fáil party and I know that he will be a strong addition to our existing team, working alongside Pat Casey in Wicklow and nationally."
He also said the Government is not doing enough in Europe to make its case on Brexit.