The Taoiseach has said the Government will not make the same mistakes that were made with the last national spatial strategy in 2002 when it is drawn up later this year. 
Speaking in NUI Maynooth, Enda Kenny said in the last spatial strategy 20 spatial towns were named, towns were placed against towns, politics against politics and not one of the towns involved is presently in the top 20 growing Irish towns. 
"We're not going there this time," the Taoiseach said. 
Mr Kenny also said if governments do not listen to people strange things can happen, referring to the Brexit result in the UK, the election of President Trump in the US and recent elections in Europe. 
Taoiseach says he doesn't want new national spatial strategy to set town against town or politics against politics, as with the last plan. pic.twitter.com/xnQIzgGKoU

— RTÉ News (@rtenews) February 2, 2017
Earlier, Minister for Housing, Planning, Community and Local Government Simon Coveney said that for the first time Ireland is planning 20 years ahead as the Government prepares to launch a public consultation on the National Planning Framework to take Ireland up to 2040.
Speaking on RTÉ's Today with Sean O'Rourke, Mr Coveney said planning has been concentrated on cities and neglected other areas up until now.
The areas that have seen the biggest growth over the last number of years have been towns within commuting distance of Dublin and Cork, he said.
This was not good for community life, he said, adding that every county in the country deserved the same consideration by Government.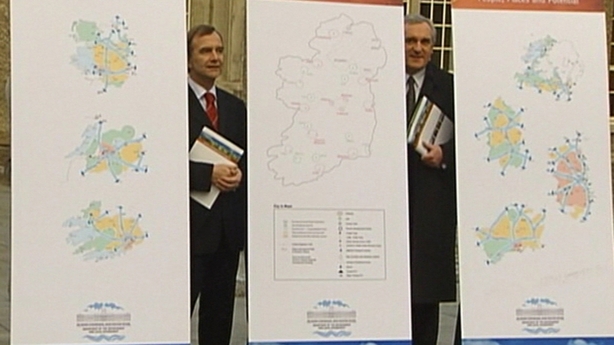 The minister warned that three quarters of the houses that will be needed will be built on commuter belts, unless something is done.
He said he believed we would see new developments, targeted at the ageing population, in villages around the country that would entice pensioners to move out of the cities after retirement.
Without a long-term vision, it is impossible to plan for the short- and medium-term, he said.
He urged local communities to hold meetings to discuss what they felt was essential for their future.
Later speaking at NUIM, Mr Coveney highlighted five key areas that Ireland will need to address for 2040.
 A national population increase of around one million people.

 More than one-fifth of Ireland's total population being over 65.

 More than 500,000 additional people at work.

 500,000 homes needing locations much closer to services and amenities.

 Rebuilding community and commercial life in cities and towns and protecting the many qualities of rural communities.
Professor Rob Kitchin from the National Institute of Regional and Spatial Analysis at NUIM said the strategy will look at how best to coordinate transport, health, education and housing into an overall strategy so they work in a coordinated way. 
Speaking on RTÉ's News at One, he said it aims to balance growth throughout the country and to stop rural decline. He said places need to work together to make different towns and locations more sustainable.
While the strategy looked to deliver for everybody, hard choices would have to be made and not all problems will be addressed in all locations, he added.