Motorists have been urged to drive with care as gusts of up to 110km/h are forecast as Storm Doris sweeps across the country.
The status yellow warning remains in operation until 4am tomorrow.
Gardaí have urged car owners parked on the Clontarf Road seafront around the Dublin Bus depot to move their cars due to rising water levels.
Dublin Fire Brigade has tweeted that its Rathfarnham unit is dealing with a fallen tree, which has caused damage to cars. No injuries were reported.
A flat roof on a building on Pembroke Street in Dublin has also collapsed.
Our Rathfarnam fire engine has responded to a tree down damaging cars. Luckily no one was injured. pic.twitter.com/e65BqeHwAt

— Dublin Fire Brigade (@DubFireBrigade) February 2, 2017
1 fire engine from Tara St is dealing with the collapse of a flat roof on a building on Pembroke St #StormDoris #Dublin #fire pic.twitter.com/tM1UDJP05q

— Dublin Fire Brigade (@DubFireBrigade) February 2, 2017
Met Éireann has forecast that southeasterly winds will reach average speeds of 55-65km/h.
AA Roadwatch has said that the East Wall Road has reopened after an advertising hoarding came down.
DUBLIN: East Wall Rd has fully reopened at 3Arena following an earlier fallen advertising hoarding. https://t.co/qvBPcgxUj8

— AA Roadwatch (@aaroadwatch) February 2, 2017
There are also reports of fallen trees on the Old Wicklow/Arklow Road at Blainroe and on the Naas to Ballymore Eustace Road at The Elms.
DUBLIN: Woodside Rd in Sandyford blocked due a fallen tree. The Council has been notified. https://t.co/qvBPcgxUj8

— AA Roadwatch (@aaroadwatch) February 2, 2017
As #stormdoris approaches, our Infrastructure team at The Murrough, Co Wicklow checking coastal erosion  #24hrsinIE pic.twitter.com/4uSfQjDy97

— Iarnród Éireann (@IrishRail) February 2, 2017
Clontarf roads open but seafront getting battered #clontarf #rtenews pic.twitter.com/JOIFhwwYJv

— Joe Mag Raollaigh (@joemagraollaigh) February 2, 2017
The RNLI and the Irish Coast Guard have urged caution along exposed coasts and warned that waves and tides can be very powerful even if the water looks calm.
Meanwhile, high tide has passed in Cork city without any significant flooding after Cork City Council earlier warned that low-lying parts of the city centre may flood before and after high tide at around 9am.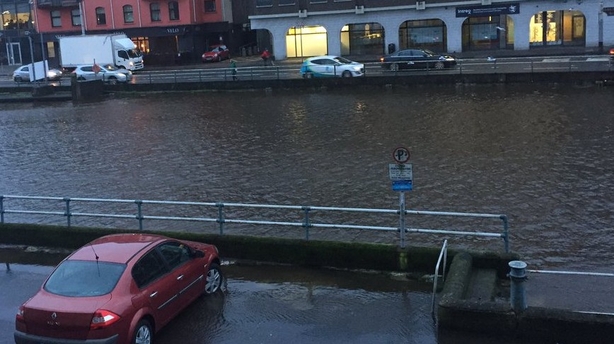 The local authority said that the main impact of any flooding was expected to be on traffic. 
A tidal surge, southerly winds, a low pressure area and a spring tide were expected to give rise to flood conditions.
The council also warned householders and the owners of businesses to take steps to protect their properties.
Warnings heeded #Cork #Quays #FloodWarning #HighTidePast - next High Tide 21.19 pic.twitter.com/CtN7TgZCtU

— JennïeØSullivân (@OSullivanJennie) February 2, 2017
Driest January for up to 30 years
Meanwhile, new data from Met Éireann has revealed that parts of the country experienced their driest January in up to 30 years.
With dry settled weather and high pressure dominating for much of the period, the majority of places reported below half of their normal rainfall for the time of year.
Weather stations in Dublin and the east midlands reported their driest January in 11 years, with a few stations in the west and north reporting their driest January conditions in 20 years.
However, Claremorris in Co Mayo experienced particularly low amounts of rain, recording the driest opening month of the year in three decades - just 40% of its normal long-term average.
It was a mild month too, according to meteorologists, with the west, northwest and east experiencing the highest average temperatures.
Most places had the warmest January in five years, but Malin Head in Co Donegal was the exception, clocking the hottest January in ten years.
The highest daily temperature was recorded at Shannon Airport and Roche's Point on the 24 and 10 of January respectively, with both hitting 12.9C. The month's lowest air temperature was -5.7C at Fermoy on 3 January.