Talks at the Workplace Relations Commission between health service unions and management on the crisis in recruiting and retaining nurses adjourned last evening.
The Irish Nurses and Midwives Organisation said no progress had been made.
In a statement, INMO General Secretary Liam Doran said that, in the absence of a radical change from management, the union's council is likely to sanction strike action when it next meets on Monday.
Shortly before Christmas, INMO members backed industrial action, by a margin of 90%, amid frustration at understaffing and overcrowding.
It comes as the latest figures of patients waiting in emergency departments shows 493 people are waiting for admission to a bed.
Of this number, 352 are on trolleys just in emergency departments, according to figures from the Irish Nurses and Midwives Organisation.
The Health Service Executive puts the number of patients on trolleys just in emergency departments higher at 391, but over 11% down on this day last year.
The hospital worst affected by total overcrowding is University Hospital Limerick, with 44 patients waiting.
Committee told more hospital beds are needed
There are more Irish consultant emergency physicians in the Australian state of Victoria than in Ireland, as graduates "cannot work in our system", the Irish Association of Emergency Medicine has told an Oireachtas Health Committee.
Representatives from the IAEM, Irish Congress of Trade Union, Patient Focus and the HSE are before the committee to address the issue of overcrowding at hospital emergency departments.
Emily O'Connor, President of the Irish Association of Emergency Medicine, said: "The conditions for patients is too poor, the environment too hostile."
Ms O'Connor, who is also a consultant in emergency medicine, told the committee that overcrowding in emergency departments has been going on for two decades and "it is getting worse".
She said, "About a quarter of people attending at ED go on to need a hospital bed. In summary about 25,000 extra patients needed a hospital bed last year. We need more beds.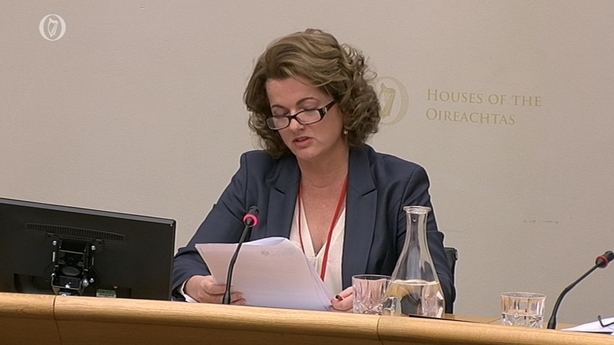 "That is not to say that crowding in EDs is new - patients have suffered boarding on ED trolleys for nearly two decades: I remember statements from members of the Oireachtas in the past. I believed the situation would improve. It did not. It is getting worse. 520 people on trolleys yesterday. The target last year was 236, which for those patients every day, was really unambitious. But did we ever have a hope of meeting even that? Not with current bed capacity."
"We lost so many beds from the acute hospital sector that we are now down to 2.8 per 1,000, well below the OECD norm of 4.3. Over the decade processes improved, we tried to cope, to keep patients moving through the system. We failed. We fail every day.
On the difficulty of Ireland keeping its own graduates she said, "Ireland has excellent medical schools with large numbers of students interested in EM. We have excellent Core and Higher training in EM, delivered by Consultants in EM, and produce high quality Consultants in EM. But they cannot work in our system.
"The conditions for patients is too poor, the environment too hostile. There are more Irish Consultant Emergency Physicians in the Australian State of Victoria that in Ireland."
'There's more Irish ED consultants in Australian state of Victoria than in Ireland' - @AssocEmergMedIE tell #Dáil cttmee @rtenews pic.twitter.com/VnteUAhC8o

— Conor McMorrow (@ConorMcMorrow) January 25, 2017
Patricia King, of ICTU's health sector committee, called on the Government to increase bed capacity by 1,500 beds.
She said: "We must provide the capital and current funding necessary to increase our acute bed capacity, by at least 1,500, with the additional beds being allocated in areas of greatest need."
On the issue of overcrowding, Mr Doran told the committee: "The fundamental problem is that our health service is too small, too narrow, it is not integrated and it cannot cope with demand."
He said that "we have done nothing about our acute bed capacity and our needs."
"The one good thing that has happened this winter is the reduction in the delayed discharges."
He said, additional care beds and additional home help have contributed to this and it has to be welcomed.