The National Bus and Rail Union has called on Minister for Transport, Tourism and Sport Shane Ross to engage in a debate on the public transport issues surrounding the Bus Éireann dispute.
In a letter to the minister this evening, NBRU General Secretary Dermot O'Leary refers to Mr Ross' comments on RTÉ's Prime Time last week, when he said he was committed to sitting down and speaking with the NBRU and other stakeholders after the dispute was over to discuss his vision for the future of public transport.
Mr O'Leary said that as there is no dispute currently at Bus Éireann, and that there was therefore no impediment to initiating such a debate.
He said the NBRU was prepared to engage without preconditions, but would expect other stakeholders to come to the table with a similar commitment.
He said it behoved Mr Ross as the responsible line minister to arrange a debate - which the union accepted would include the current crisis at Bus Éireann - rather than to stand by like a spectator and allow for what he called a contrived and forced industrial relations dispute.
He said that would only impose potential travel chaos on taxpayers relying on Bus Éireann services, and make it even harder to resolve the company's difficulties.
Earlier, Mr Ross said that he would not get involved in the industrial relations negotiations. He said that he was very concerned about possible strike action.
Bus Éireann warns of potential insolvency
Acting Bus Éireann CEO Ray Hernan this afternoon told an Oireachtas committee that the company could be insolvent by the end of this calendar year without drastic cost reduction measures.
Speaking at the Oireachtas Committee on Transport, Tourism and Sport, Mr Hernan outlined the serious financial difficulties facing the company, with losses for 2016 now forecast to hit up to €9m. 
Just weeks ago, those losses were estimated at €6m.
Mr Hernan told the committee that without a survival plan outlining the potential for returning to profitability, the board would not be able to sign off on the company's accounts as a going concern by the end of March deadline.
Asked about possible redundancies, he said management had not yet finalised the optimal staff numbers, adding that there is no voluntary severance scheme on the agenda at the moment. 
He could not yet identify which routes might be under threat, but pledged to minimise the number of routes that might potentially be withdrawn or reduced. 
He said Bus Éireann would liaise with the National Transport Authority to ensure connectivity for passengers was not reduced.
He said many of the cost-cutting measures presented to staff were part of previous collective agreements that had not been fully implemented across the organisation - and outlined a number of areas with scope for improvement.
He cited the absenteeism rate of between 6-7% which he estimated at double the normal average.
He noted that fuel efficiency equipment known as telematics had been installed on 270 buses some years ago but had never been switched on.
He said that even a 1% reduction in fuel consumption would save the company €350,000 a year. 
He noted that all bus fleet maintenance is carried out during the day, adding that it was no use having vehicles in a garage during the day when they should be out delivering services.
He said the cost of insurance claims had risen from €1.5 million in 2014 to almost €7m in 2016. 
Mr Hernan pledged to pursue the Department of Social Protection for an increase in subvention for the Free Travel Scheme, but warned that additional subvention alone would not resolve the company's problems.
He said details of the salary and severance package for the outgoing CEO Martin Nolan could not be revealed due to confidentiality commitments. 
Mr Hernan pledged to minimise the impact on staff and take-home pay, but said what caused higher costs was premium payments including overtime, shift and rota allowances, and lunch expenses.
He said they needed to engage with unions to bring payments back into line with what exists in the marketplace.
We need your consent to load this rte-player contentWe use rte-player to manage extra content that can set cookies on your device and collect data about your activity. Please review their details and accept them to load the content.Manage Preferences
Sinn Féin TD Imelda Munster described the company's cost-cutting proposals to staff as inflammatory, provocative and demeaning to workers, who had not created the crisis.
She queried whether management would also be taking a cut of up to 30% in their pay.
However, Mr Hernan said the 30% figure "thrown out" by the unions was not based on facts according to his calculations. 
Ms Munster queried how the forecast for 2016 losses could have risen from €6m some weeks ago to almost €9m. 
AAA-PBP TD Mick Barry said one worker had told him the Bus Éireann proposals would reduce his pay by €136 a week, or up to €7,000 a year.
He noted that by contrast a human resources expert, Brendan McCarthy, was being paid €2,000 a day, which would equate to €750,000 over a year.
Mr Hernan said the details of that contract were confidential and commercially sensitive. 
He told the committee that his own salary has not yet been agreed, but he believed the salary of Mr Nolan, the outgoing CEO, was between €180,000 and €190,000 a year.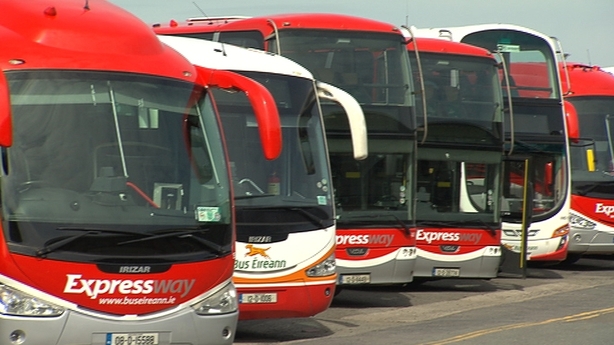 Asked about Bus Éireann's contacts with the Minister for Transport, Mr Hernan said he had met Shane Ross once.
He had outlined the seriousness of the situation but did not get into the details of what the company's management was planning. 
He said the Bus Éireann chairman has kept the department up to speed without getting into detail. 
He noted that there were relatively few clerical staff on Grade A, with a basic salary of around €25,000.
However, 45% of clerical workers were staff officers on salaries of between €42,000 and €43,000 a year.
Mr Hernan said there may be too many people in certain areas and not enough in other depots and garages around the country and they needed the right jobs in the right locations.
Fianna Fáil TD Dara Calleary asked whether it was usual for the principal shareholder, the minister for transport, to distance himself from the restructuring of a company on the verge of insolvency. 
This evening Mr Ross said that he was concerned about the possibility of strike action, but reiterated that he would not be getting involved in industrial relations negotiations. 
Earlier in the Dáil, Labour leader Brendan Howlin accused Bus Éireann of engaging in a public relations doomsday exercise and allowing a race to the bottom in terms and conditions. 
He asked Taoiseach Enda Kenny if he supported the current approach of Bus Éireann management. 
The Taoiseach said subvention to Bus Éireann had risen by 17% last year, and the central issue was the loss-making Expressway service.
He said the dispute would not be resolved by megaphone politics, but around the negotiating table.