Four children and a woman were today pulled clear from the ruins of an avalanche-hit hotel in central Italy, the national fire service said.
A further five people had been located, trapped under tonnes of snow and debris, and rescuers said they would work through the night to free them while the search continued for other possible survivors.
More than 30 people, including four children, were in the building when the avalanche slammed into it, officials said, reducing much of it to rubble and spreading debris across the valley floor.
Child and a woman among those rescued alive from avalanche-hit hotel pic.twitter.com/BryntKNDTI

— RTÉ News (@rtenews) January 20, 2017
A fire service spokesman said an initial group of six people were found alive this morning, with fire teams swiftly managing to pull two of them, a mother and her young son, to safety from a tangled mass of smashed concrete.
Rescuers clapped and shouted "bravo" as the pair were brought to the surface, led to nearby stretchers and carried by helicopter to hospital for a health check.
"They survived thanks to this bubble of air that formed inside the hotel," said Marco Bini, a rescue worker from Italy's finance police.
Shortly after the rescue a further four people were found trapped in the rubble and, as darkness fell over the mountains, three children were pulled to safety.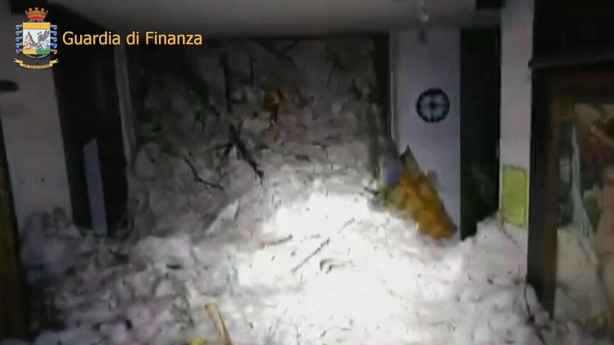 A fire service spokesman said: "They are all alive and well. The rescue operation is very long and difficult ... We are dealing with reinforced concrete that has collapsed."
The region was hit by four seismic shocks measuring above five magnitude in the space of four hours on Wednesday.
Quake experts said the tremors almost certainly triggered the snowslide.
As much as 16ft of snow covered much of what was left of the Rigopiano hotel, said Walter Milan, a member of the Alpine Rescue service at the scene. Only sections of the spa and swimming area were intact, he said.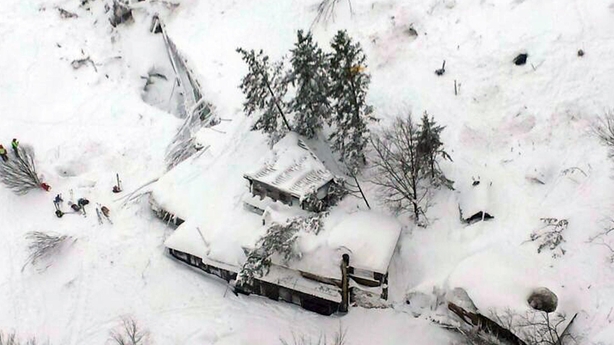 Two men outside the hotel managed to escape the avalanche and raise the alarm, but the first rescuers only managed to reach the scene by ski some 11 hours later, with the access roads blocked by snow and fallen trees.
An investigation has been opened by a court in Pescara amid accusations that the emergency response was slow.
One guest in the hotel had gone to his car to get headache pills for his wife when the avalanche struck. His wife and his eight-year-old son were amongst those saved this morning, Italian media said.
His six-year-old daughter was one of the three other children rescued as night fell.