Taoiseach Enda Kenny has described Martin McGuinness as a "tireless and committed champion of the Peace Process".
He said he was sorry to learn that Mr McGuinness has decided not to contest the forthcoming election due to poor health.
"While Martin and I may not always have seen eye-to-eye on every issue, I readily acknowledge the remarkable political journey that he has undertaken", Mr Kenny said.
"I know that Martin remains firmly committed to delivering a peaceful and prosperous society for all of the people of Northern Ireland.
"He was one of the key architects of the Good Friday Agreement, and a tireless and committed champion of the Peace Process.
"I have appreciated working closely with Martin in recent years, including in particular in the work of the North-South Ministerial Council", Mr Kenny added.
He wished Mr McGuinness and his family well for the future and said he hoped Mr McGuinness's health "will now be his absolute priority in the time ahead."
Minister for Foreign Affairs Charlie Flanagan said the announcement by Martin McGuinness that he is to retire from politics will be "received by many with an equal measure of understanding and disappointment".
He described Mr McGuinness as "unstinting" in his efforts to secure the stability of the power-sharing institutions in the North and "to advance reconciliation between the unionist and nationalist communities".
Mr Flanagan said that although he and Mr McGuinness come from very different political traditions, in the time that he worked directly with him, he experienced a "political leader who was determined to make the future of Northern Ireland, and its people, so much better than its past".
The minister added that "we will miss his positive contribution to political discourse on this island".
Martin McGuinness announces retirement from politics
In pictures: From IRA leader to Stormont leader
Key events in Martin McGuinness's life and political career
Minister @CharlieFlanagan's statement on Martin McGuinness. pic.twitter.com/5QlvZwjRRC

— IrishForeignMinistry (@dfatirl) January 19, 2017
Foster acknowledges McGuinness's contribution to Executive
Former Northern Ireland first minister Arlene Foster issued a statement this evening saying that "while the current political situation is not what any of us would wish ... I nonetheless value the good things achieved by the outgoing Executive and the contribution made by Mr McGuinness to it."
She acknowleged that Mr McGuinness "has been a major figure at Stormont" for almost a decade and said "despite all that has happened" she wished Mr McGuinness a speedy recovery.
Statement from Rt Hon Arlene Foster on @M_McGuinness_SF retirement pic.twitter.com/eeCwT5YvvU

— Arlene Foster (@DUPleader) January 19, 2017
British Prime Minister Theresa May said Mr McGuinness played a key part in shifting the outlook of the Republican movement.
"We recognise his work over many years securing a number of significant political agreements. He played a key role in moving the Republican movement towards a position of using peaceful and democratic means," she said.
"I want to send him best wishes for his retirement. We will all continue to work to make sure that the people of Northern Ireland are able to live freely and in peace."
Elsewhere, Northern Ireland Secretary of State James Brokenshire said: "I thank him on behalf of the Government for his work in securing a number of significant political agreements, as well as his service as deputy first minister of Northern Ireland."
Northern party leaders pay tributes
SDLP leader Colum Eastwood said there is no doubting Mr McGuinness's "commitment to the institutions that were established under the Good Friday Agreement.
"Perhaps most significantly, Martin McGuinness developed the ability to reach out beyond his own base and in recent years has acted generously to reach out the hand of friendship and reconciliation," he said.
"That ability was best displayed in his relationships with Ian Paisley and Peter Robinson."
Ulster Unionist leader Mike Nesbitt said he had been a major influence over the 10 years since the DUP decided to work with Sinn Fein in Stormont Castle.
"His decision to take up arms in the IRA and terrorise the people of Northern Ireland has left a legacy we are still struggling to come to terms with.
"That said he is clearly unwell and I wish for him and his family what I would wish for myself and mine."
Alliance Party leader Naomi Long recognised the degree to which he stretched himself and his constituency over recent years to move the political process forward.
"During that time he displayed significant moments of generosity, which were important in building relationships and securing the peace we enjoy," she said.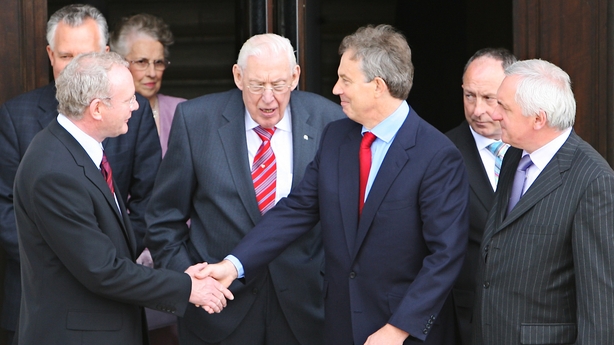 Blair praises 'character and courage' of McGuinness
Former British prime minister Tony Blair also said that he is sorry Mr McGuinness is stepping down.
In a statement to RTÉ News Mr Blair, who was in office for the Good Friday Agreement, said "Martin showed character and courage when he became part of the historic effort to create peace in Northern Ireland.
"I will never forget the intensity or the emotional strain of those meetings we had together over several years," the former Labour leader said.
"He never stopped believing in his cause. But he never ceased in his determination to find a way to escape the bonds of history and try in the interests of all the people of Ireland to find a way to the future.
"I thank him for his service and for his leadership. I wish him well and his family to whom he is so devoted."
Peter Robinson 'praying' for McGuinness to overcome his illness
Former first minister Peter Robinson said he is praying for Mr McGuinness to overcome his serious illness.
The ex-DUP leader also said he hopes his former power-sharing partner and long-time political foe has time to enjoy the simple things in life.
In a statement he said: "Martin will discover, as I have, that there is much to rejoice in having more time with family, and less stress with the removal of the responsibilities of office.
"I pray that he overcomes his health challenges and has the time to do the simple things I know he loves - spending time with his grandchildren, fishing and watching football."
Mr Robinson stood down from the top office in Stormont just more than a year ago, several months after suffering a heart attack. But he said at the time his health was not a factor in his retirement.
Offering his "best wishes" to Mr McGuinness, he added that they had managed to build up a relationship while in office together despite their diametrically-opposed political positions.
"We came from polar opposite backgrounds but built up a relationship based on doing the best we could for all our people," he said.
"We shared the hardships of taking risks for progress and the joy of seeing so many improvements in the lives of our fellow citizens."
Hain hopes McGuinness replacement 'similar'
Peter Hain who was secretary of state for Northern Ireland from 2005 to 2007 tweeted his reaction to the news that Mr McGuinness was retiring saying he was "really sad" and described Mr McGuinness as "a towering figure in NI peace process & 10 years stable self Govt".
He said he hoped that Mr McGuinness's replacement would be "similar".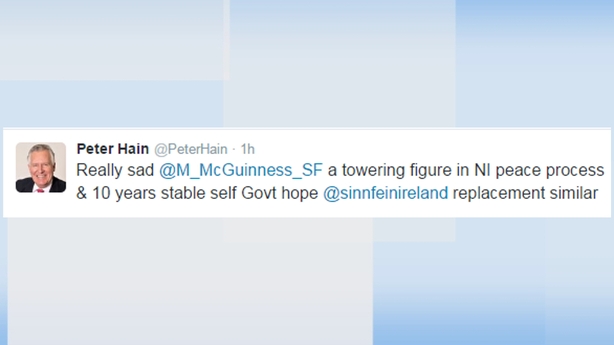 McGuinness sought to be constructive force in GFA - Martin
Meanwhile, Fianna Fáil leader Micheál Martin wished the former Stormont deputy first minister well on his retirement.
He said he could not pretend to agree with many of the positions Mr McGuinness has taken over the last 40 years, but "I believe he has sought to be a constructive force in trying to make the post-Good Friday Agreement institutions work".
Former taoiseach Bertie Ahern also paid tribute saying it was sad he was not seeking re-election.
Man of 'patience', says Ahern
Mr Ahern said they had their differences over the years but he had always respected Mr McGuinness and described him as a man of patience and a good negotiator.
He added that Mr McGuinness always brought a truthful reflection regarding what was necessary to bring about the 1994 IRA ceasefire and other developments in the peace process.
Huge loss to Northern Ireland politics - McAleese
Former president Mary McAleese said Mr McGuinness's retirement is a huge loss to Northern Ireland politics, adding his contribution had been enormous.
Speaking on RTE's Six One she said that he was the manifestation of the level of change that was required in order to be able to establish peace.
Mrs McAleese said that people who had believed in paramilitarism had to forego this and embrace democratic politics and to work with each other respectfully and Martin McGuinness showed how that could be done.
The former President said it is going to be very difficult to replace him.

Mary McAleese: The contribution of Martin McGuinness to politics in Northern Ireland was 'enormous' pic.twitter.com/MqaQNUTQSd

— RTÉ News (@rtenews) January 19, 2017