Thousands of people have taken part in a protest over cardiology services at University Hospital Waterford.
The demonstration comes a day after the Government announced a mobile cath lab would be in place at the hospital shortly.
Organisers are calling for 24/7 cardiology services at the hospital. They said they were very happy with the turnout.
Gardaí estimate around 5,000 people took part in the protest through the city centre while organisers put the figure around 8,000.
There were renewed calls for the Government to put in place a second permanent cath lab in the hospital and guarantee 24-hour cardiac cover.
Minister for Training, Skills and Innovation and TD for Waterford John Halligan said yesterday that the plan for the mobile cath lab was a "big step forward".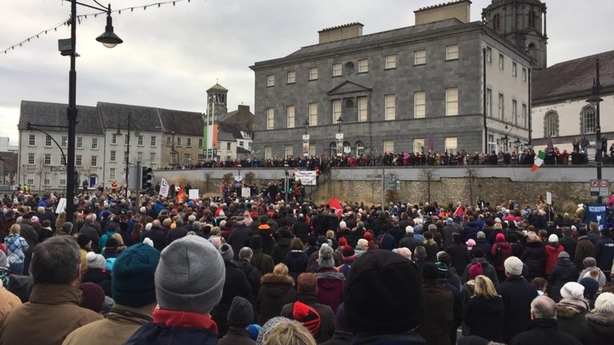 A spokeswoman for the South East Patient Advocacy Group described the timing of yesterday's cath lab announcement as "cynical" ahead of the group's demonstration today.
Hilary O'Neill said that while the mobile lab will reduce the number of patients on the waiting list in the South East region, it was "a bit of a cynical move the day before we are having a major protest".
She added that the mobile cath lab is not a permanent solution.
Sinn Féin TD David Cullinane, who attended the protest, said: "Patients in the south-east who suffer a heart attack after 5pm or at weekends will still have to travel to Cork or Dublin. This is a totally unacceptable state of affairs."
"Since 2009, we have seen a serious lack of spend and investment at University Hospital Waterford. While demand is on the increase, capacity has been in sharp decline. The dire situation regarding cardiac services is reflective of that reality," added Mr Cullinane.