A mobile catheterisation lab is to be provided to University Hospital Waterford following months of controversy over the issue.
Minister for Training, Skills and Innovation and TD for Waterford John Halligan said it was a "big step forward".
The lab is to form part of the Government's response to cardiology waiting lists at the hospital, Mr Halligan confirmed.
In a statement today, Mr Halligan said agreement on the mobile lab was reached late last night following negotiations between the Independent Alliance and Minister for Health Simon Harris.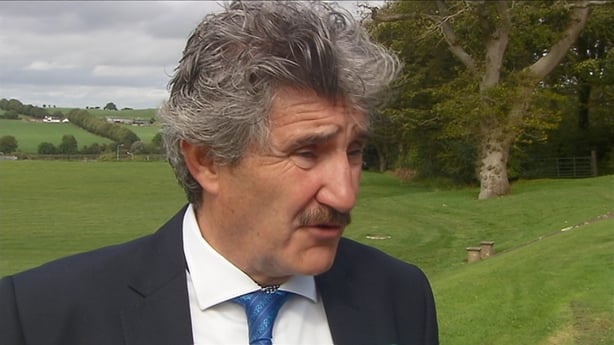 Mr Halligan said the mobile lab was not designed as an alternative to a permanent second cath lab.
In October it emerged that a Department of Health note for the independent clinical review of the case for a second cardiac laboratory at UHW said it was "not a top investment priority".
As part of his support for the Government, Mr Halligan agreed to an independent review of the need for a second cardiac laboratory at Waterford, which he campaigned for.
The review was commissioned by Mr Harris in May last year and the report in September did not back establishing a second cardiac laboratory and 24-hour cover.
The Programme for Government committed it to the development of a second catheterisation lab at Waterford, subject to a favourable recommendation from an independent clinical review.
We need your consent to load this rte-player contentWe use rte-player to manage extra content that can set cookies on your device and collect data about your activity. Please review their details and accept them to load the content.Manage Preferences
According to Mr Halligan, consultants in the southeast sought the mobile lab as a counter proposal to the Health Service Executive's plan to outsource patients to Cork.
But he said campaigners have been vigorously fighting against that plan and they would not settle for services being moved out of Waterford.
"While this is by no means the end of the campaign for improving cardiac services in the south east, it is a big step forward", Mr Halligan said.
The existing cath lab will also now operate for extra hours due to an increased investment at the hospital.
He said that a further review of the situation at UHW will take place when the mobile lab is in place.
"What I would hope is that this review will demonstrate the need for the second lab," Mr Halligan added.
A spokesperson for the Minister of Health said Mr Harris "recently visited University Hospital Waterford and is aware there is a significant cardiac waiting list at the hospital as well as in a number of other parts of the country.
"Waiting list initiatives being planned for 2017 include the use of a mobile cath lab to address waiting lists where patients are waiting unacceptably long times for their procedures, including in Waterford."
Dr Patrick Owens, a consultant cardiologist at University Hospital Waterford has given a cautious welcome to the announcement.
Speaking on RTÉ Six One, he said that a mobile cath lab should address the waiting list, but he has not seen any details surrounding what is to be provided and would like to see the specifics.
Dr Owens said the inability to provide a 24/7 acute heart attack care will only be addressed by providing a full-time cath lab.
A spokeswoman for the South East Patient Advocacy Group described the timing of today's cath lab announcement as "cynical" ahead of the group's planned demonstration tomorrow.
Speaking to RTÉ's Drivetime, Hilary O'Neill said that while the mobile lab will reduce the number of patients on the waiting list in the South East region, it was "a bit of a cynical move the day before we are having a major protest".
She added: "So, we will accept it as a temporary measure, but it's not a permanent solution. We've heard promises before. We were told that 24/7 cardiac care was just a formality.
"And, to this day, we still don't have 24/7 cardiac care in the South East."
The group will continue to campaign for 24/7 care at Waterford University Hospital, she said.
It is to go ahead with its protest in Ballybricken, Co Waterford at 2pm tomorrow.