State-owned bus company Bus Éireann's financial situation has worsened, and without urgent reforms it could face insolvency within 18 months, according to informed sources. 
Late last year, Minister for Transport Shane Ross briefed his Cabinet colleagues and said the company was at crisis point, and could become insolvent within 24 months.
However, the latest figures suggest that the company has just 18 months to avoid financial disaster.
It lost €5.6m in 2015, an estimated €6m in 2016, and losses for 2017 are now forecast to exceed €7m.
A Bus Éireann spokesperson confirmed that yesterday the company's board considered a restructuring report commissioned from Grant Thornton aimed at "creating a viable company in the interests of all stakeholders."
While concrete details of that strategy have not yet been published, it is understood the company envisages significant changes in work practices, pay, terms and conditions, the closure or-subcontracting of certain routes, as well as the separation of the loss-making Expressway service into a separate subsidiary. 
Redundancies have not been ruled out.
The spokesperson said the Commercial and Innovation subcommittee of the board has now been mandated to work with the management team led by acting CEO Ray Hernan, who yesterday took over from outgoing CEO Martin Nolan. 
Mr Hernan joined the company just before Christmas having previously worked for Ryanair and Arnotts.
The spokesperson said Bus Éireann management will present an implementation plan to union representatives over the coming weeks - and possibly as early as next week. 
She added that the plan must address the competitiveness and efficiency needs of all areas of the business, which she described as essential to secure the future of the company. 
Other sources indicated that the situation is now so urgent, that management will want to implement some of the proposed changes by the end of February - leaving just seven weeks for negotiation.
Unions will be apprehensive about the company proposals, and are likely to resist them.  
For their part, they have been pursuing significant pay increases on behalf of their members. 
They have also balloted for industrial action in the event that the company introduces unilateral changes without agreement. 
A planned Labour Court hearing in December had to be adjourned when the Bus Éireann negotiators said they could not discuss pay increases in isolation from significant cost reductions and reforms. 
The unions have also been running a nationwide campaign to highlight the danger to rural bus routes. 
General Secretary of the National Bus and Rail Union Dermot O'Leary said for the last year, unions had been advising the company, the Department of Transport Tourism and Sport, and the National Transport Authority that they will not accept a situation where Bus Éireann workers have to pay to fix problems that have not been created by staff.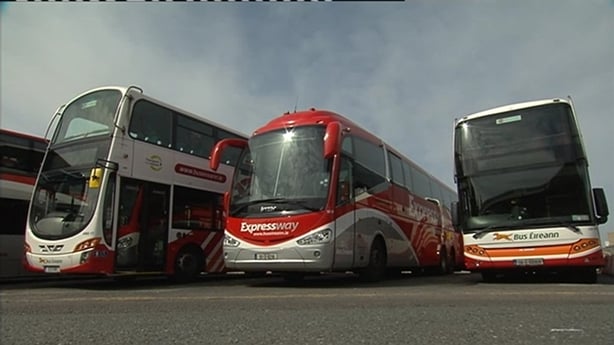 He said the fact was that the saturation of the commercial bus market by the National Transport Authority - while implementing government policy - had led to the forecast losses of over €7m.
Mr O'Leary added that a resolution to the current crisis would not be found between the company and the trade unions in isolation from those who set and implement policy. 
Meanwhile, Independent TD Michael Fitzmaurice has said that West of Ireland politicians who support the Government should consider their position if Bus Éireann routes in the region are axed. 
The Roscommon-Galway TD said rural routes must be protected as Bus Éireann prepares to implement a significant cost reduction programme to address mounting losses.
Mr Fitzmaurice said rural Ireland had borne the brunt of the recession and further cuts simply could not be tolerated.  
He said while everyone favoured greater efficiencies and delivering better services, that was not a license to axe services purely based on their economic performance. 
He also noted in recent days the National Transport Authority had announced a rise of 10 million in the numbers using public transport in Ireland, with 2016 Bus Éireann customer numbers rising by 1.7 million to nearly 32 million.