Twenty-one people have been killed and nearly one million people affected by floods in southern Thailand after days of rain across the country's southern neck.
The "severe flooding is because of the worst rainfall in more than 30 years", Prime Minister Prayut Chan-O-Cha told reporters.
Downpours and flash floods have also disrupted holidays on tourist islands including Samui and Phangan, disappointing tens of thousands of visitors hunting Thailand's peak season sun.
Despite the end of the monsoon season weeks ago, there were no immediate signs of respite for the flood-battered region.
Mr Prayut warned climate change meant floods and droughts were increasingly likely and "Thailand must prepare to handle these problems".
The Thai Meteorological Department warned of continuing "heavy rains which may cause flash floods" across ten southern provinces, while the army intensified relief efforts.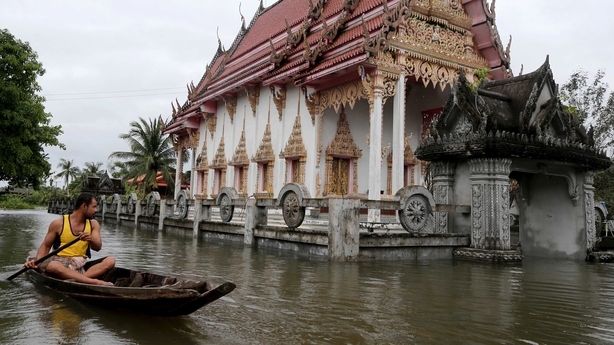 Thailand's junta has deployed boats with special pumping equipment to Nakhon Si Thammarat province, which has seen floods reach rooftops in some areas, causing deaths and extensive damage to property.
Television images showed villagers wading through muddy water in remote flooded hamlets.
In areas where the water had receded, locals slopped out mud from their homes and surveyed broken roads, bridges and ruined farmland.
Thailand's south is heavily reliant on tourism and agriculture, including rubber, fruit and palm oil plantations, and the floods will likely have a significant economic impact.
In the northeast - a prominent rice growing region - farmers face a different dilemma, a water shortage caused by two years of drought.
Across the border in Malaysia, floods eased significantly, with only about 1,000 residents seeking shelter at relief centres in the states of Kelantan and Terengganu late yesterday.