Russian President Vladimir Putin ordered "an influence campaign" in 2016 aimed at the US presidential election with the goal of undermining the democratic process and denigrating Democratic rival Hillary Clinton, a new, declassified intelligence report said.
"We further assess Putin and the Russian Government developed a clear preference for President-elect Trump," the report said.
"We also assess Putin and the Russian Government aspired to help President-elect Trump's election chances when possible by discrediting Secretary Clinton and publicly contrasting her unfavourably to him," it said.
However, US President-elect Donald Trump has said the outcome of the 2016 US election was not affected by cyber attacks.
His comments came after intelligence agencies briefed him on their conclusion that Russia had staged cyber attacks during the campaign.
Mr Trump said that "Russia, China, other countries, outside groups and people" seek to attack US institutions including the Democratic National Committee. "There was absolutely no effect on the outcome of the election including the fact that there was no tampering whatsoever with voting machines."
The New York businessman said he would appoint a team to give him a plan within 90 days of taking office on how to prevent cyber attacks but suggested that he would keep their recommendations secret.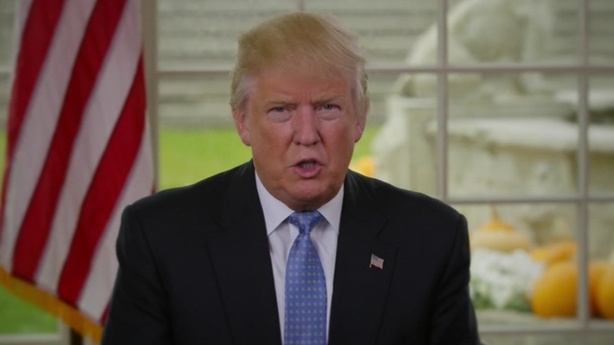 "The methods, tools and tactics we use to keep America safe should not be a public discussion that will benefit those who seek to do us harm," he said.
The incoming president issued the statement after receiving a briefing from intelligence officials on their conclusion, first made public in October, that the Russian government had directed the cyber attacks, which embarrassed the Democrats and their candidate Hillary Clinton.
Russia denies the US government's allegations of hacking during the election campaign.
The briefing coincided with deep tension between the intelligence agencies and Mr Trump, who has disparaged their conclusions that Russia's cyber attacks were intended to interfere in the election by hacking Democratic Party institutions and Clinton campaign staff.
In a telephone interview with the New York Times before the briefing, Mr Trump had dismissed the controversy.
"China, relatively recently, hacked 20 million government names," Mr Trump said in the interview, referring to the Office of Personnel Management breach in 2014 and 2015.
"How come nobody even talks about that? This is a political witch hunt."
Mr Trump's questioning of the intelligence agencies' conclusions have not only drawn the ire of Democrats but also fellow Republicans.
Senators John McCain and Lindsey Graham, both Republicans who took part in a Senate hearing with US spy chiefs yesterday, have called for further congressional inquiries.