The Irish Nurses and Midwives Organisation has said that some of the "new" 63 acute hospital beds announced by the Health Service Executive were promised last autumn but were not opened.
Last night the HSE said 63 extra acute beds would be opened and private hospitals would assist the public system.
Of the 63 beds announced last night, the HSE said that 28 have been opened in Galway today and the remaining 35 will come on stream in the next four to six weeks, as staff become available, following the normal recruitment process.
This afternoon, the INMO said that under the HSE's September 2016 winter initiative, 55 extra beds were promised but just 17 could be opened.
The HSE said that of the original 55 acute beds and 18 step-down beds announced in September last year, 35 have been opened.
The INMO said that funding for the 63 beds announced last night is not new money but represents resources now being re-directed to open beds in other areas.
The Irish Medical Organisation criticised the response of the HSE to the trolley crisis. Speaking today, Dr John Duddy, President of the IMO, said that the response was "too little, too late".
"We need [a] clear statement from Government that significant additional investment will be made in our public health services. Diverting funds to the private sector is not the solution," said Dr Duddy.
Meanwhile, the Emergency Department Task Force met earlier today to discuss the overcrowding crisis and new initiatives from the HSE.
Figures today show that levels of overcrowding have eased, with 395 patients on trolleys or wards waiting for admission to a bed.
University Hospital Limerick remains the worst affected, with 41 patients waiting.
The figures are compiled by the Irish Nurses and Midwives Organisation.
The task force last met in early December, to prepare for the Christmas/New Year period.
However, overcrowding reached a record high of 612 patients on Tuesday.
It has remained high all week, causing discomfort and difficulties for patients, relatives and staff.
While increased influenza levels have added to the problem, doctors said it is not the root cause and they insist that more beds and staff are key to improving capacity.
Minister for Health Simon Harris said he wants to be the person who puts in place the building blocks to break the cycle of overcrowding.
He also said the HSE has to do better and that he is sorry for what people are experiencing.
Sinn Féin calls for extra frontline staff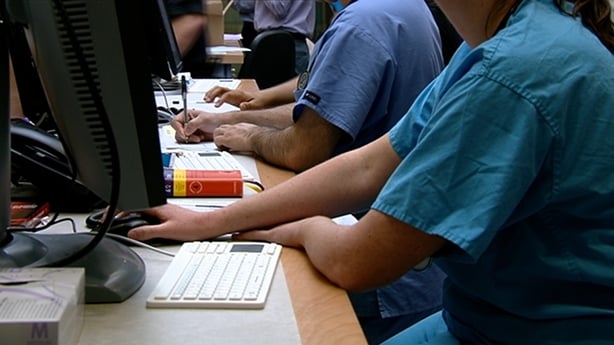 Sinn Féin has called for the number of hospital beds to be increased by 500, under proposals published today.
Its health spokesperson, Louise O'Reilly, said it also wants 600 extra frontline staff appointed.
The plan says there should be safe nurse/doctor to patient ratios in the service and a 10% increase in home help hours.
Ms O'Reilly said the overcrowding problem had not manifested itself overnight and was due to years of under investment.
Meanwhile, the Chairman of the GP Committee of the Irish Medical Organisation has said many patients are not keen to attend hospitals and are asking their GPs to delay their admission.
Speaking on RTÉ's Morning Ireland, Dr Padraig McGarry said that a spike in attendances with respiratory illnesses and more homecalls is stretching doctors' workload.
Dr McGarry said GPs are only sending patients to hospital when they need hospital treatment and said it is incorrect to say patients on trolleys have been referred too early.
He said GPs need improved access to diagnostics and he said the reduced capacity in hospitals leads to a tipping point.
93-year-old man waits over 12 hours for examination
A woman has described how her 93-year-old father had to wait for over 12 hours to have his septic foot examined at Galway University Hospital.
Mary Corbett-Joyce told Morning Ireland that her father was sent by ambulance from Clifden to Galway University Hospital on Tuesday.
She said when he arrived it was "packed beyond capacity", with trolleys outside the emergency department as well as lining both sides of the corridors inside the emergency department.
His blood pressure was taken but it was the next morning before his foot was examined.
She said it was "inhumane" and staff were completely overworked, with nurses trying to take blood pressure and bloods from patients on trolleys in corridors.
She said the doctor who did see her father apologised for the delay and put her father on a drip. He is now recovering well at home.
Minister calls on HSE to produce actions
This morning Mr Harris said significant overcrowding was being experienced right across the health service this week and he called on the HSE to produce actions above and beyond the winter initiative.
He said he was pleased to hear from the HSE that a range of measures had been put into place including extra beds, care beds and direct access to diagnostics for GPs using private hospitals in Kilkenny, Mullingar and Cork.
Simon Harris says the public want to hear the measures needed to break the vicious cycle of overcrowding in hospitals pic.twitter.com/IDRnNOOgDt

— RTÉ News (@rtenews) January 6, 2017
Speaking on his way into the meeting of the Emergency Department Task Force, the minister called on people particularly in at-risk groups to avail of the flu vaccine, saying that it is not too late.
He said he wanted to again apologise to Irish patients for the experience that they have had to put up with across the health service. He said this was not acceptable.
He thanked staff for the great work they had done in extraordinary circumstances and said trolley numbers today appeared to be down from what they were yesterday.
However, he said this was still unacceptably high.
He said people wanted to know what was being done to break a vicious cycle that has dogged the health system for two decades at least.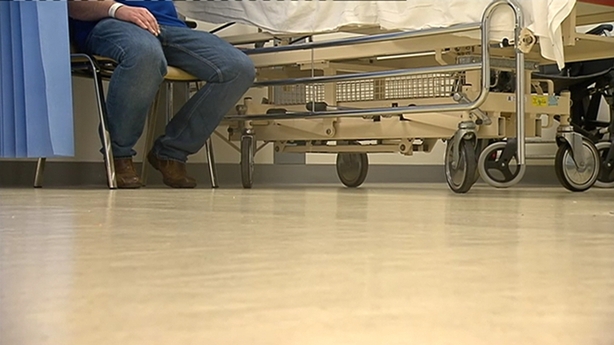 A bed capacity review was needed, he said, as well as looking at the issues of recruitment and retention of staff and a new GP contract.
He said 115 new nurses had been hired over the Christmas period and €40m had been given to the HSE for a number of measures under the winter initiative.
Some progress had been made in the area of delayed discharges, which were down to the lowest level recorded, he said.
The outbreak of flu and the particular strain of flu, he said, was compounding the problem. This explained the problem but did not excuse it, he added.
Asked whether the HSE needed to apologise for the situation patients found themselves in, he said no one in health service management could be satisfied with the current situation and that is why he said he was sorry for what patients and staff had had to endure.
The HSE can do better and must do better, he said. But he said it would continue to be a challenging time in the weeks ahead.

Hospital postpones non-urgent staff leave
Galway University Hospital has requested that all non-urgent leave be postponed by nurses.
It said this is needed due to the increase in sick leave and the high number of staff and patients with flu.
The hospital said it is aware this may cause difficulties but said the request is being made in view of the current bed and staffing crisis.
Meanwhile, the Chief Executive of the Beacon Hospital in Dublin has suggested that private hospitals could treat elective patients along the lines of the National Treatment Purchase Fund - to help increase capacity in public hospitals.
Speaking on RTÉ's Today with Sean O'Rourke, Michael Cullen said that private hospitals do not have the staff and resources to deal with large-scale trauma but could treat some minor injuries or surgery cases.
Mr Cullen said that "clearly" public hospitals cannot cope with demand.
The Beacon Hospital has "20-odd" beds that could be filled, he said.