Palestinian President Mahmoud Abbas has said he is ready to resume peace efforts with Israel if it stopped settlement building, reacting to a major speech by US Secretary of State John Kerry.
In a statement, Mr Abbas said "The minute the Israeli government agrees to cease all settlement activities... and agrees to implement the signed agreements on the basis of mutual reciprocity, the Palestinian leadership stands ready to resume permanent status negotiations on the basis of international law and relevant international legality resolutions... under a specified timeframe."
The statement by Mr Abbas' comes after Mr Kerry made a speech which Israeli leader Benjamin Netanyahu said was biased against Israel.
In a statement issued by his office, Mr Netanyahu said: "Like the Security Council resolution that Secretary Kerry advanced in the UN, his speech tonight was skewed against Israel."
The Israeli leader said Kerry "obsessively dealt with settlements", which the United States strongly opposes, in the speech.
Mr Netanyahu accused Kerry of barely touching upon "the root of the conflict - Palestinian opposition to a Jewish state in any boundaries".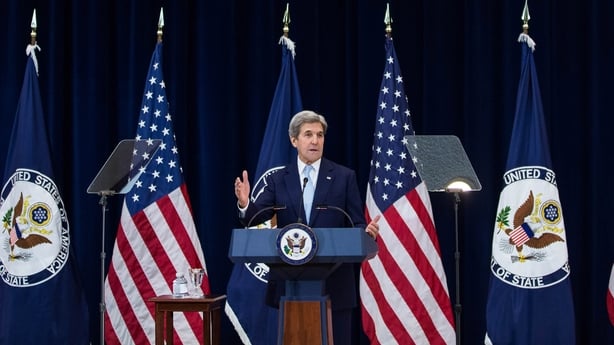 In the speech to diplomats in Washington, Mr Kerry warned that Israel's settlement building in the West Bank threatens both hope for peace with the Palestinians and the country's own future as a democracy.
Mr Kerry also warned Israel was on a course leading to a "perpetual occupation" of Palestinian-owned land.
"Today, there are a similar number of Jews and Palestinians living between the Jordan River and the Mediterranean Sea," he told an audience of diplomats in Washington.
"They have a choice. They can choose to live together in one state, or they can separate into two states," he said.
"But here is a fundamental reality: if the choice is one state, Israel can either be Jewish or democratic - it cannot be both -and it won't ever really be at peace."
Explaining the US decision last week not to veto a UN Security Council vote to condemn Israeli settlement building, Mr Kerry said: "The vote in the UN was about preserving the two-state solution.
"That's what we were standing up for: Israel's future as a Jewish and democratic state, living side by side in peace and security with its neighbors," he said.
"The two-state solution is the only way to achieve a just and lasting peace between Israelis and Palestinians," Mr Kerry said, warning that such a solution was now in "serious jeopardy."
We need your consent to load this rte-player contentWe use rte-player to manage extra content that can set cookies on your device and collect data about your activity. Please review their details and accept them to load the content.Manage Preferences
Israel pulls back from approving housing development
Earlier today Israel pulled back from approving hundreds of new homes for Israelis in annexed East Jerusalem ahead of Mr Kerry's speech.
The projects, in areas Israel captured in the 1967 Middle East war and which Palestinians seek as part of a future state, are part of building activity the UN Security Council demanded an end to on Friday in a resolution made possible by the US abstention.
With applications for 492 building permits in the urban settlements of Ramot and Ramat Shlomo on its agenda, members of Jerusalem city hall's Planning and Building committee said a planned vote was cancelled at Mr Netanyahu's request.
The panel's chairman, Meir Turgeman, said at the session that Mr Netanyahu was concerned approval would have given Mr Kerry "ammunition before the speech".
A spokesman for the Israeli leader declined immediate comment.
However, the panel has approved the construction of a four-storey building for Jewish settlers, according to a NGO.
Ir Amim, which opposes Israeli settlement in occupied territory, said the structure would be erected on a vacant plot in Silwan, a Palestinian neighbourhood where settlers have been expanding an enclave.
"Today, while attention has been focused on the removal of... building permits ... the committee proceeded to approve a controversial project in one of the most flammable neighbourhoods in East Jerusalem," Ir Amim said in a statement.
Saeb Erekat, secretary-general of the Palestine Liberation Organization, called on Israel "to take the high ground and declare a cessation of settlement activities, including East Jerusalem, so we can give the peace process the chance it deserves by the resumption of meaningful negotiations".
Decision marked end of US diplomatic shielding
Washington's move at the United Nations broke a long standing policy of diplomatic shielding of Israel by the United States.
Condemned by Israel as "shameful", it was widely seen as a parting shot by President Barack Obama against Mr Netanyahu and his pro-settlement policies.
The two leaders have had a rocky relationship, divided over the decades-old Israeli policy of building Jewish settlements in occupied territory as well as on how to prevent a nuclear-armed Iran.
The United States considers the settlement activity illegitimate and most countries view it as an obstacle to peace.
Israel disagrees, citing a biblical, historical and political connection to the land - which the Palestinians also claim - as well as security interests.
Some 570,000 Israelis now live in the West Bank and East Jerusalem amid mounting international concern that a two-state solution to the dispute is in jeopardy, with peace talks stalled since 2014.
Mr Netanyahu's aides are confident Republican President-elect Donald Trump's incoming administration will likely ignore any Obama principles and pay no heed to the UN resolution.
But they fear Mr Kerry's remarks will put Israel on the defensive and prompt other countries to apply pressure.
Mr Trump tweeted his opposition to the US decision to withhold a veto and lobbied Egypt, an original sponsor of the resolution, to drop plans to bring it to a vote last Thursday.
He has pledged to move the US Embassy from Tel Aviv to Jerusalem, which Israel claims as its capital - a status that is not recognised internationally.
Today he tweeted about how the US is treating Israel saying: "We cannot continue to let Israel be treated with such total disdain and disrespect. They used to have a great friend in the US, but not anymore. The beginning of the end was the horrible Iran deal, and now this (UN)! Stay strong Israel, January 20th is fast approaching!"
He has appointed his lawyer, who has raised funds for a major Jewish settlement in the West Bank, as the new ambassador.
"Who's Obama? He's history," Israeli Culture Minister Miri Regev said on Army Radio today.