Homeless agencies say there were 54 spare hostel beds available in Dublin on Thursday night.
More homeless people who are occupying Apollo House in Dublin are expected to move from the office block to hostel accommodation today.
This followed a visit by staff from the Peter McVerry Trust.
Yesterday, the 40 rough sleepers staying at the Tara Street building were "offered long-term accommodation" with a homeless service, according to a statement from a representative housing and homeless group.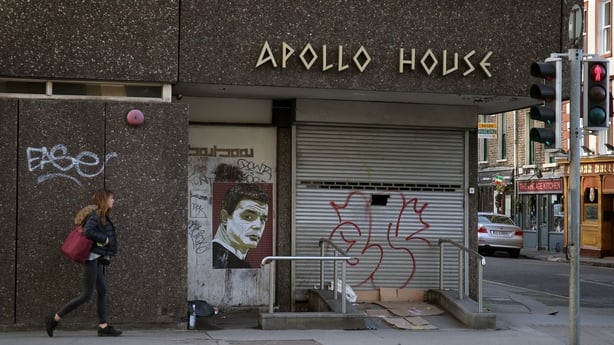 Twenty-one people have agreed to this option of six-month secure accommodation offered through homeless services, the trust said in a statement this afternoon.
They will have two days to decide if they want to stay in the new accommodation before their space at Apollo House is offered to another rough sleeper.
The accommodation needs of 30 of the 40 residents have been assessed by the trust.
After the meeting with the trust, the coordinators of the Apollo House campaign said they had agreed to work together.
The High Court this week ordered those who have been living in the vacant office building to leave the premises by 11 January.
Efforts continue to place more of the 32 homeless people remaining at Apollo House into hostel accommodation.
The Dublin Region Homeless executive says there is enough spare capacity.
Of the 54 places available last night, 30 were for men and 24 for female.
The newly opened hostel at Carman's Hall only had five beds taken up out of 25 available.
The Merchants Quay Ireland Night Café had around 30 people sleeping on mats compared to 70 some weeks ago.
Merchants Quay is described as a "last resort" for people looking for accommodation after hours and who have not used the freephone system to secure a bed.
The clients involved often have addiction issues.
Home Sweet Home to continue campaign
The Home Sweet Home group say they will continue with a campaign to have NAMA owned housing and land made available to the homeless and those unable to afford current rents.
Spokesman Tommy Gavin said that the Government has the legal right to do this and "could solve the housing crisis with one stroke of a pen".
He said Home Sweet Home and the Irish Housing Network are considering legal action to force the Government to do this and are appealing for contributions to enable this.