German investigators believe there is a "high probability" that the Tunisian suspect they are hunting in connection with Monday's attack on a Berlin Christmas market is the perpetrator, the interior minister has said.
A manhunt is currently under way to try capture 24-year-old Anis Amri.
Investigators found fingerprints of the Tunisian on the door of the truck that ploughed through the crowds on Monday, German media have said.
"We can report today that we have new information that the suspect is with high probability really the perpetrator," Thomas de Maiziere told reporters.
"In the cab, in the driving cabin, fingerprints were found and there is additional evidence that support this," he added.
Chancellor Angela Merkel, appearing alongside Mr de Maiziere at the Federal Office of Criminal Investigation, said she hoped the perpetrator would be arrested soon.
Ms Merkel also said she was proud of the calm public response to the deadly attack.
"In the past few days I have been very proud of how calmly most people reacted to the situation," she said.
"I am certain we will meet this test we are facing."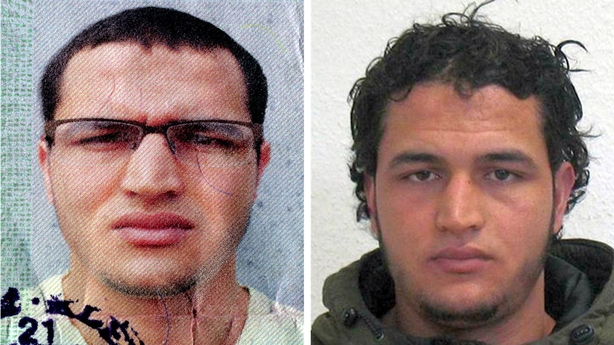 The so-called Islamic State group has claimed responsibility for the attack in which a truck smashed through wooden huts killing 12 and injuring 48 on Monday evening.
It was the deadliest attack on German soil since 1980.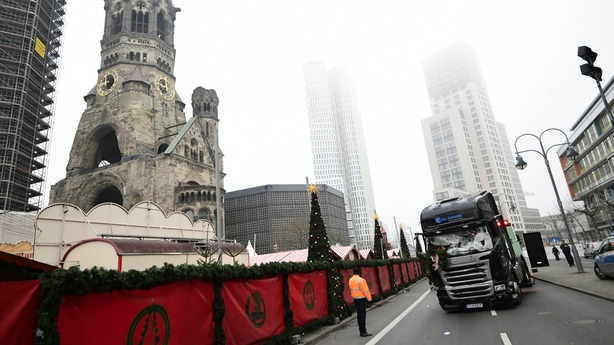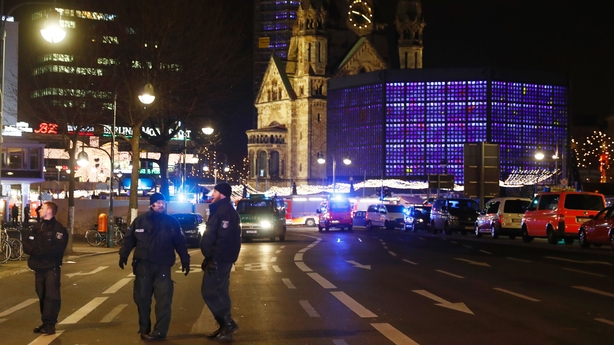 The Berlin attack has raised concerns across Europe in the approach to Christmas.
France, which has been the target of a series of militant attacks over the last year, has tightened security at markets there with concrete barriers.
Troops were also being posted at churches.
The market in Berlin reopened surrounded by concrete bollards.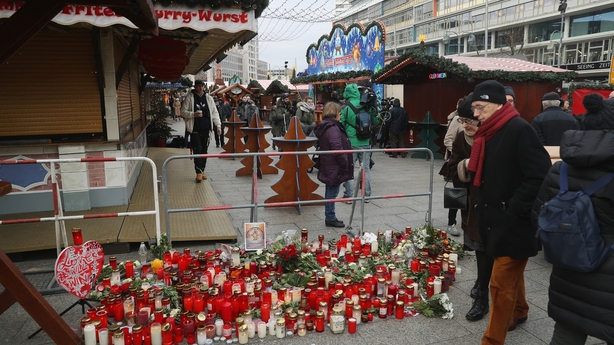 A chief federal prosecutor spokesperson denied media reports that police in the western German city of Dortmund had arrested four people who had been in contact with the suspect.
Anti-terrorism investigators had been aware of Amri - report
Bild newspaper cited an anti-terrorism investigator as saying that it was clear in spring that Amri was looking for accomplices for an attack and was interested in weapons.
The report said preliminary proceedings had been opened against Amri in March based on information he was planning a robbery to get money to buy automatic weapons and "possibly carry out an attack with them and other accomplices".
In mid-2016, he spoke to two IS fighters and Tunisian authorities listened in on their conversation before informing German authorities.
Amri also offered himself as a suicide attacker on known Islamist chat sites, Bild said.
Police started looking for the Tunisian after finding an identity document under the driver's seat of the truck used in the attack.
Authorities have stressed that Amri is just a suspect and not necessarily the driver of the truck.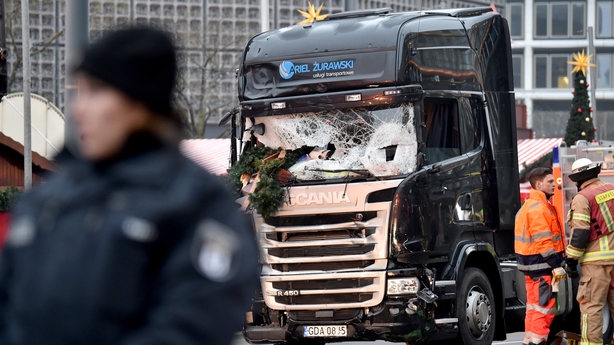 Broadcaster RBB said the perpetrator lost both his wallet and mobile phone while running away from the attack site.
Yesterday, Ralf Jaeger, interior minister of the western state of North Rhine-Westphalia, said the Tunisian appeared to have arrived in Germany in July 2015 and his asylum application had been rejected in June 2016.
Klaus Bouillon, the head of the group of interior ministers from Germany's federal states, said Islamists often left identity documents at attack sites - as was the case in Paris attacks - to steer public opinion against refugees.
German Chancellor Angela Merkel has faced calls to tighten asylum procedures since the attack.
We need your consent to load this rte-player contentWe use rte-player to manage extra content that can set cookies on your device and collect data about your activity. Please review their details and accept them to load the content.Manage Preferences