Carl Icahn, a newly named adviser to President-elect Donald Trump, has said burdensome US regulations were hindering free enterprise, and oil refining in particular.
In an interview with CNBC, Mr Icahn, the famed Wall Street activist investor, also suggested he would help push the new Trump administration towards broad-based deregulation, as he is widely expected to do.
Mr Trump said yesterday that he had named Mr Icahn, 80, as his special advisor to overhaul "strangling regulations."
Mr Icahn has significant investments in the energy sector, including the Texas oil refiner CVR Energy, which suffered heavily in recent years as energy prices declined but could stand to gain from an anti-regulation agenda.
In the interview aired today, Mr Icahn said that under President Barack Obama the United States was "on a fast track to socialism" and businesses suffered under an "absurd regulatory environment."
"I'm not against regulations at all. I sort of believe that you need a rule of law," Mr Icahn said. "But it's become literally absurd in many areas."
"There good companies, good CEOS, as there are good regulators," he added. "There are some that are completely absurd.... Frankly, you almost get enraged by some of the stuff."
He pointed to rules under the Environmental Protection Agency governing oil refineries, asserting that gasoline prices were tied to production limits at refineries on the eastern coast of the United States.
Mr Trump has nominated Oklahoma Attorney General Scott Pruitt, a close ally of the fossil fuel industry and climate change denier, to lead the EPA.
"You have to have healthy refineries," Mr Icahn said. "There are refineries on the brink of bankruptcy today."
In a statement on Thursday, the organisation Friends of the Earth said Mr Icahn's new role in the Trump administration showed that the president-elect was building a "kleptocracy" that would steal from the public and give to the well-connected.
"Once again Donald Trump has chosen a billionaire who will make himself rich at the expense of the American people," Ben Schreiber, the organization's climate director, said in a statement.
"Carl Icahn's vast fossil fuel holdings should disqualify him from any role in reviewing regulations designed to protect public health and the environment."
Conway named as counselor to the president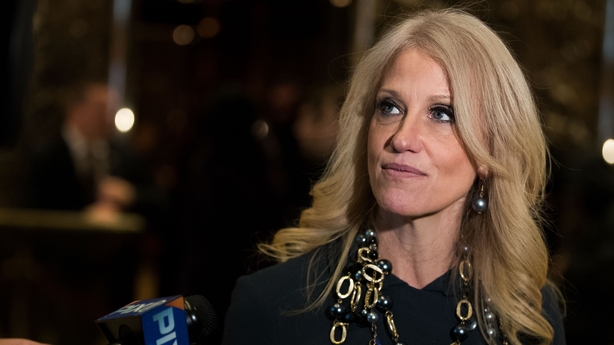 Former Trump campaign manager Kellyanne Conway is to serve as counselor to the president, his transition team said.
Ms Conway, currently a senior adviser on Mr Trump's transition team, is widely credited with helping him bring a more disciplined approach to campaigning that helped him win the November presidential election.
In her new post, Ms Conway will play a key advisory role in the White House when Mr Trump takes office, helping to manage the New York businessman's messaging and legislative priorities, according to the statement.
Mr Trump said Ms Conway "played a crucial role in my victory.
"She is a tireless and tenacious advocate of my agenda and has amazing insights on how to effectively communicate our message."
Speaking on MSNBC this morning, Ms Conway said that she saw herself as "a discreet adviser" on Mr Trump's communications strategy, calling him a "brilliant communicator and connector".
"That's how he won this campaign, how he became president. If I can support that, I will," she said.
Critic of China set to head new US trade council
Peter Navarro, an economist who has urged a hard line on trade with China, has been named to head a newly-formed White House National Trade Council.
Mr Navarro is an academic and one-time investment adviser who has authored a number of popular books and made a film describing China's threat to the US economy as well as Beijing's desire to become the dominant economic and military power in Asia.
Mr Trump's team praised Mr Navarro in a statement as a "visionary" economist who would "develop trade policies that shrink our trade deficit, expand our growth, and help stop the exodus of jobs from our shores".
The president-elect made trade a centerpiece of his presidential campaign and railed against what he said were bad deals the United States had made with other countries.
He has threatened to hit Mexico and China with high tariffs once he takes office on 20 January.
Mr Navarro, 67, is a professor at University of California, Irvine, and advised Mr Trump during the campaign.
He has authored several books including "Death by China: How America Lost its Manufacturing Base," which was made into a documentary film.
As well as describing what he sees as America's losing economic war with China, Mr Navarro has highlighted concerns over environmental issues related to Chinese imports and the theft of US intellectual property.