Police in Germany are looking for an asylum-seeker from Tunisia after finding an identity document under the driver's seat of a truck that ploughed into a Berlin Christmas market on Monday and killed 12 people, officials and security sources have said.
Interior minister Ralf Jaeger said the man appeared to have arrived in Germany in July 2015 and his asylum application had been rejected.
He seemed to have used different names and had been identified by security agencies as being in contact with an Islamist network. The man had mainly lived in Berlin since last February.
The man, who has been named as 24-year-old Anis Amri, had been considered a potential threat by security authorities since November. After being turned down for asylum, he should have been deported but could not be returned to Tunisia because his documents were missing, Mr Jaeger added.
The new details added to a growing list of questions about whether security authorities missed opportunities to prevent the attack, in which a 25-tonne truck mowed down a crowd of shoppers, injuring about 45 people.
Six of those killed were Germans and the Polish driver of the truck was found shot dead in the cabin of the vehicle.
It was the deadliest attack on German soil since 1980.
Security sources said the ID found by the Berlin investigators was in the name of Anis A, born in the southern Tunisian city of Tataouine in 1992. By convention, suspects in Germany are identified by the first name and initial.
A spokesperson for Tunisia's foreign ministry said it was trying to verify that information.
German Interior Minister Thomas de Maiziere said a Europe-wide manhunt for the suspect had been underway since midnight.
The Rheinische Post newspaper said police had begun searching a shelter for migrants in western Germany where the man was believed to have lived.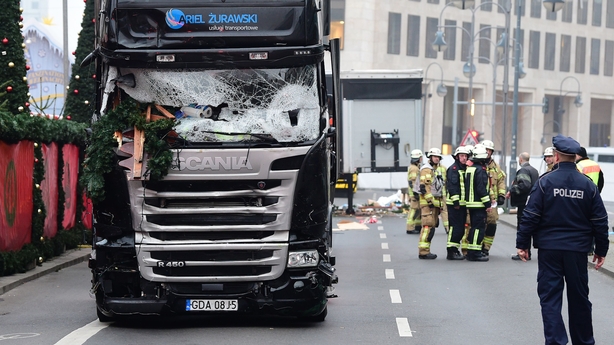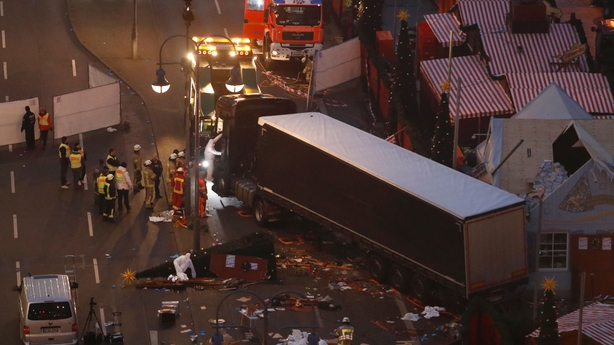 The possible - though unproven - involvement of a migrant or refugee has revived a bitter debate about security and immigration, with Chancellor Angela Merkel facing calls to clampdown after allowing more than a million newcomers into Germany in the past two years.
Ms Merkel has said it would be particularly repugnant if a refugee seeking protection in Germany was the perpetrator.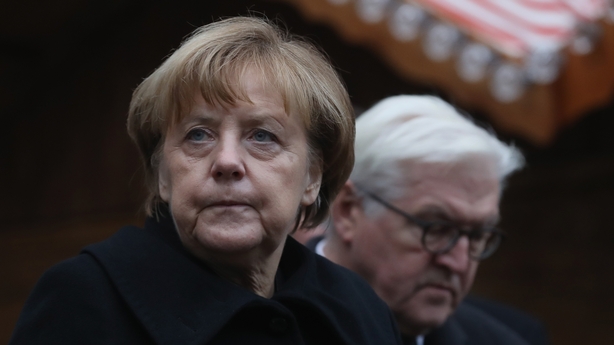 Police initially arrested a Pakistani asylum-seeker near the scene, but released him without charge yesterday.
Authorities have warned that the attacker is on the run and may be armed. It is not clear if the perpetrator was acting alone or with others.
The Polish driver of the hijacked truck was found shot dead in the cabin of the vehicle. Bild newspaper reported that he was alive until the attack took place.
It quoted an investigator as saying there must have been a struggle with the attacker, who may have been injured.
The so-called Islamic State group has claimed responsibility for Monday's attack.
Ireland 'not immune from terrorist threat' - Flanagan
Minister for Foreign Affairs Charlie Flanagan has said that Ireland is not immune from a terrorist threat but said there is no specific evidence that we are a target for such activity.
He also advised those travelling to Germany and elsewhere in Europe to exercise a high degree of caution in the wake of the Berlin attack.  
He said many European countries are in a state of high alert and said the events of the last 48 hours have heightened tensions.
It is, he said, a very troubled time in Europe.
He described the attack as appalling and said he offered his condolences to the German authorities yesterday.
He advised people during the Christmas period to follow advice of the gardaí and to report any suspicious behaviour to them.
We need your consent to load this rte-player contentWe use rte-player to manage extra content that can set cookies on your device and collect data about your activity. Please review their details and accept them to load the content.Manage Preferences