The Simon Communities of Ireland has launched its annual report for 2015, which shows a 26% increase in the number of people seeking their help over 2014 and 2015.
The housing and homeless charity supported almost 8,300 people who are experiencing homelessness across the country.
Nearly 7,000 people will be spending Christmas Day trapped in emergency accommodation, it has estimated.
The annual report was launched by Minister for Housing, Planning, Community and Local Government Simon Coveney this morning.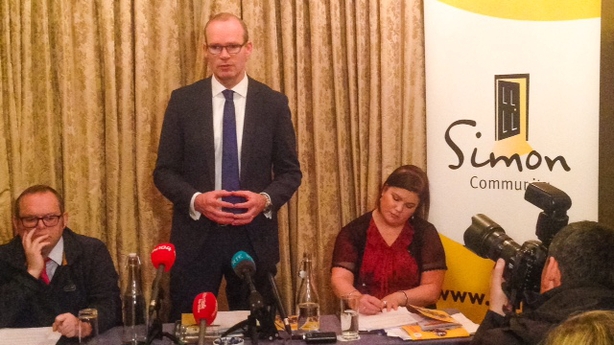 Speaking on RTÉ's Morning Ireland ahead of the report's release, Simon spokesperson Niamh Randall said there had been increased pressure on the housing sector with longer housing wait lists and pressure in the private rented sector.
However, she added there have been some positive shifts in policy this year.
"The key thing in terms of addressing homelessness is prevention. If we can keep people in the homes that they have - in terms of the stress, the trauma, the damage that's done - we're making really good progress in terms of that," she said.
She said there had also been good progress in terms of the cost to the State.