Stormont's First Minister has faced down a motion of no confidence during a day of drama at Stormont that included a mass walkout from the Assembly chamber.
Democratic Unionist leader Arlene Foster defied repeated calls for her to stand down pending the outcome of an independent investigation into her role in a botched renewable heat scheme that has landed Stormont with an estimated £400 million overspend.
Ms Foster described the Renewable Heat Incentive affair as her "deepest political regret", but insisted she was going nowhere.
"I remain as committed today as I did on the day I was elected as First Minister to fight the good fight, finish the race and keep the faith," she said.
The SDLP's motion of no confidence was supported by a majority of voting MLAs (39-36) but was defeated because it did not secure the required level of cross-community support, due to DUP opposition.
While the DUP's partner in government Sinn Féin has also called for Ms Foster to stand down, its members did not vote in the debate, instead proposing its own motion on the RHI scandal for mid-January.
That move eased fears of an immediate threat to the political institutions, though the crisis is far from over.
Sinn Féin and the DUP are set to hold talks on the way forward in coming days.
Ahead of the motion of no confidence, all non-DUP members of the Assembly walked out of the chamber amid an acrimonious row over Ms Foster's right to make a statement on the RHI to the Assembly, without the required approval of Sinn Féin Deputy First Minister Martin McGuinness.
In extraordinary scenes, which saw Speaker Robin Newton face a barrage of critical questions, Ms Foster made her statement to rows of empty benches with only her party colleagues for company.
The DUP leader fielded questions from her MLAs in an otherwise empty chamber.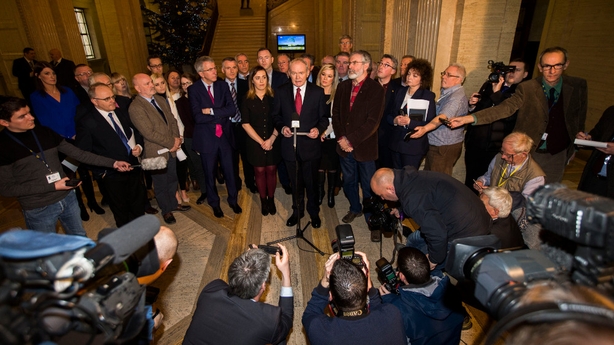 Mr McGuinness branded the episode a "shambles".
He said the RHI furore had left the power-sharing institutions in a "very difficult situation" but pledged to focus on getting them back on track.
Speaking on RTÉ's Six One News, Mr McGuinness said he is confident that he and Ms Foster can find a way forward.
"Arlene Foster is the leader of the DUP. She is my partner in government. The nature of the political institutions that we have all agreed, and the Good Friday Agreement, makes it quite clear that we all have a responsibility and a duty to work together.
"I've have worked through many other difficult situations in the past and I am as equally determined to work a way through this to find a solution which will see the restoration of the credibility of these institutions. The RHI scheme is seen as a massive financial scandal. We need to get to the bottom of it."
"These are peace institutions that have brought enormous peace to the North of Ireland; that have brought enormous political stability to the North of Ireland.
"I've been in these institutions with the DUP for the last ten years. I am the longest serving minister in the power-sharing executive. I'm the longest serving minister on the North South Ministerial Council.
"I am the longest serving Minister on the British Irish Ministerial Council. Do I want these political institutions to collapse on my watch? No way. And I think that the DUP have to come at it from a similar perspective."
Claims of widespread abuse
A majority of the MLAs absent for Ms Foster's speech later returned to the Assembly for the motion of confidence debate.
The RHI was due to offer a proportion of the cost businesses had to pay to run eco-friendly boilers, but it ended up paying significantly more than the cost of fuel, enabling applicants to "burn to earn" - getting free heat and making a profit as they did it.
Claims of widespread abuse include a farmer allegedly set to pocket around £1m in the next 20 years for heating an empty shed.
Ms Foster was the minister in charge of the scheme at its inception.
Responding to the censure call, a clearly angered Ms Foster launched a string of broadsides at her rivals.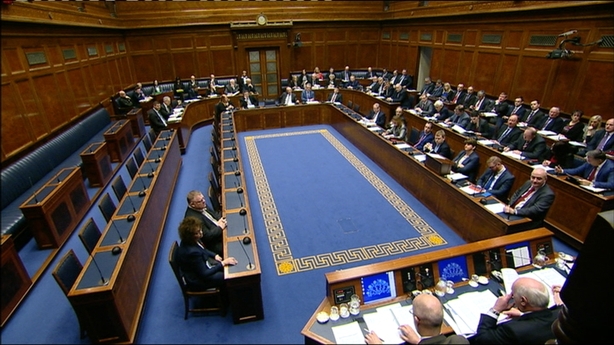 Denouncing opposition parties as "irrelevant and impotent" and accusing the media of partiality, she said: "For almost two weeks I have listened on an almost daily basis to lies presented as facts, the truth distorted out of all recognition and a public narrative created and relentlessly pursued which bears no relationship to reality."
Assured of the party strength to defeat the motion of no confidence, Ms Foster branded it a "kamikaze" attempt at a "constitutional coup d'etat".
"I have to say it's a coup d'etat more worthy of a Carry On film," she added.
SDLP leader Colum Eastwood tabled the proposal.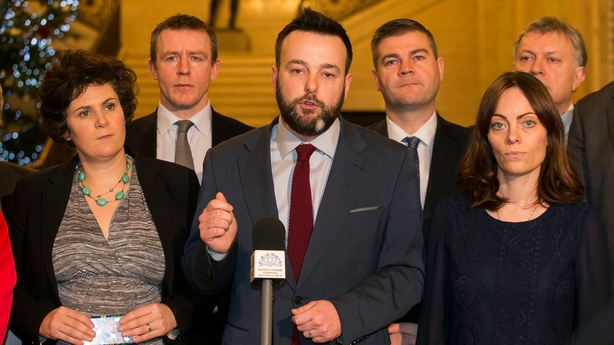 "This is biggest public finance scandal ever to hit these institutions," he said.
"As this scandal has unfolded it has suited some to muddy the waters but we must not be distracted.
"So far, digging into this scandal has uncovered staggering incompetence - digging deeper has the potential to uncover corruption."
Mr Eastwood said Ms Foster must do the "dignified and decent" thing and stand down.
"We can't go on like this. The longer the First Minister clings on the more her credibility will fade," he said. "And let me assure the First Minister, Christmas will not save her."
The walkout happened after Mr McGuinness withdrew his approval for Ms Foster to appear to explain her role in the affair.
All statements by Ms Foster and Mr McGuinness's joint office need the support of both sides of the power-sharing executive.
Mr McGuinness's move prompted members from all parties but the DUP to question the validity of Ms Foster's appearance.
They walked out when she rose to commence her lengthy statement.
The "cash for ash" scandal reached fever pitch last week when former DUP economy minister Jonathan Bell broke ranks to level a series of claims against his leader and party advisers.
In a TV interview, a tearful Mr Bell said God told him to come clean as he claimed a "highly agitated and angry" Ms Foster demanded he keep the RHI open for an extra fortnight despite its huge losses.
Ms Foster strongly rejected the claims. Mr Bell was suspended by the party over the weekend.
Mr Bell today claimed he had an email containing critical information about the scandal.
He said he was being prevented from publishing details of the message and called for that ban to be lifted.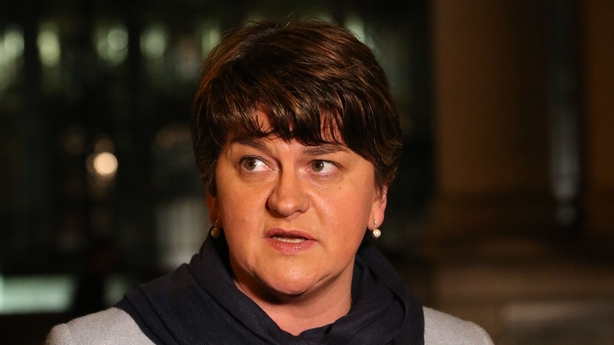 Much of the scrutiny on Ms Foster has focused on how she responded to concerns raised by a whistleblower during her time as economy minister.
There was a flurry of claims last week about whether the individual raised concerns directly to Ms Foster, or if she only outlined them after Ms Foster passed her on to meet officials.
The DUP published an email from the whistleblower last week that made no mention of her RHI concerns - the party cited it to demand an apology from those who said she should have done more.
Another email has since emerged, sent directly to Ms Foster in 2013, that raised specific concerns about the scheme.
In her statement, Ms Foster said of the whistleblower: "She deserves our high respect and a sincere apology on behalf of my former department, which should not have dismissed her claims with disbelief, but examined them with diligence.
"It is no exaggeration to say that had she been listened to on any of the three occasions when she approached DETI, this crisis would have been avoided."
Regarding what information was passed directly to her, she added: "Unfortunately, it has been difficult to establish the exact facts around contact between this concerned citizen and myself and the department."