Northern Ireland's First Minister Arlene Foster has ordered a massively overspent renewable energy scheme be kept open despite a Treasury warning, a Democratic Unionist Party colleague and former minister has claimed.
Jonathan Bell alleged that DUP ministerial special advisers had already overruled efforts to clamp down on the botched green heating subsidy before the direct intervention of his "highly agitated and angry" party leader kept it open for another period before its ultimate closure in February.
In a BBC intervention, a tearful Mr Bell said DUP leader Ms Foster should hang her head in shame and apologise to the people of Northern Ireland for her handling of the Renewable Heat Incentive scandal.
But Ms Foster emphatically denied the claims, saying Mr Bell was the one who acted aggressively in the meeting.
She claimed he was making claims as a "distraction" to mask his own failings in regard to the scheme.
Predicting his claims would spell the end of his political career, Mr Bell called for a judge-led public inquiry into the affair.
He denied he was attempting a coup against his leader and said he regretted not resigning when Ms Foster allegedly overruled him.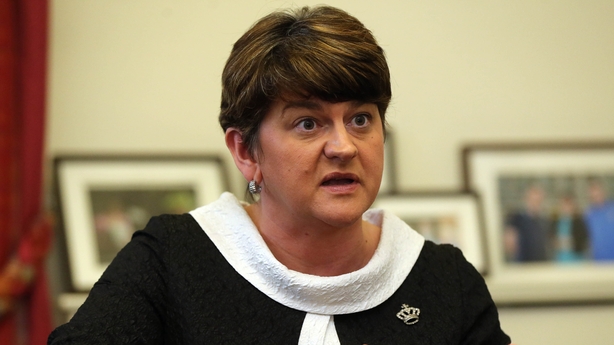 Ms Foster has faced down calls to resign for her involvement in the RHI, which was developed during her time as economy minister and has left the taxpayer in Northern Ireland facing an estimated £400 million overspend.
Mr Bell, who succeeded Ms Foster as economy minister, claimed there had also been an attempt to remove references to her in documents related to the botched scheme.
The error-ridden initiative ended up paying businesses more than it cost them to buy the fuel for their eco-boilers. For every £1 of fuel bought by businesses, they got paid around £1.60 through the scheme.
There was no cap on the subsidy payments, so essentially the more heat you generated, the more public money you were paid.
Mr Bell said he wanted to amend the scheme in October last year, to reduce the tariffs paid out, but was "wrongly and inappropriately" pressurised to delay action, creating a potential multi-million pound overspend.
He told BBC Northern Ireland's Nolan Show Investigation he had received warnings from senior civil servants since last year about overspending.
The tariff was eventually changed in late 2015, but not before a massive spike of applications pushed the bill into the hundreds of millions of pounds.
Mr Bell, who knelt to pray before giving the explosive interview, claimed his attempts to close off the lucrative tariffs were thwarted by DUP advisers.
"I believe this scheme was kept open wrongly, inappropriately and when I commit to telling the truth I am not prepared to speculate why other people did what they did," he said.
The amended scheme rolled on for a few more months but in January the Treasury, which had been paying for the scheme, said it would not be picking up the overspend tab.
Mr Bell said he acted to shut the RHI down entirely after that warning, but that Ms Foster overruled him.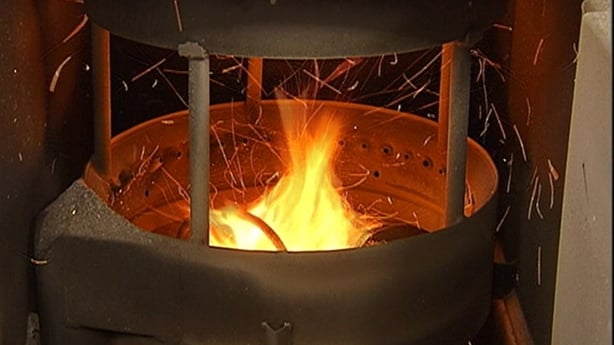 He said matters came to a head during a stormy meeting with his party leader last winter after he had been told the First Minister wanted the scheme kept open for another two weeks.
Mr Bell said he initially refused Ms Foster's instruction.
"I was ordered to appear in front of the First Minister ... in the strongest terms both in volume and in force Arlene Foster as First Minister overruled me and told me to keep the scheme open," he said.
"She was highly agitated and angry because I had been refusing the whole way for the last period and telling them I wasn't going to do this."
He said there was a "hostile" atmosphere of "fear".
"She (came) walking in and shouted at me that I would keep this scheme open.".
Ms Foster robustly denied Mr Bell's claims.
She claimed he was the one acting aggressively in the meeting - something she alleged was a character trait.
"He will try to portray himself in particular way this evening, but plenty of people know what Jonathan Bell is like," she said.
In regard to the meeting, she said: "He was very aggressive with me and I have a witness on how he spoke to me.
"He used his physical bulk to stand over me in quite an aggressive way."
She added: "The Jonathan Bell that appears on your programme is not Jonathan Bell that would be familiar to many of his political colleagues and many of his civil servants who worked in his department and many in the business community."
Ms Foster also claimed Mr Bell was the one who delayed keeping the high-tariffed scheme in place.
"I am bemused as to why he would leave it open for such a period of time," she said.
The DUP leader denied that she or then first minister Peter Robinson tried to keep the high tariffs running.
"He (Mr Bell) took the decision to leave it open for that period of time," she said.
He said there was no evidence that DUP special advisers tried to influence Mr Bell and claimed that was a "distraction" being put forward by him.
Special advisers accused of seeking to delay the tariff change have also rejected Mr Bell's claims.