EU leaders have agreed to extend the bloc's main economic sanctions against Russia over the turmoil in Ukraine for six months until mid-2017, diplomats at a one-day summit in Brussels said.
The decision was expected and the formal process to extend the sanctions on Russia's defence, energy and financial sectors will take place early next week, they said.
The bloc slapped sanctions on Russia after it annexed Ukraine's Black Sea peninsula of Crimea from Ukraine in 2014 and stepped them up as the Russian government went on to support a separatist rebellion in Ukraine's industrial east.
The conflict is still not resolved and has killed nearly 10,000 people to date.
Poland was among the EU states who wanted a longer extension of the sanctions but Italy, a leading voice in the bloc, argued for seeking ways to reestablish business ties with Russia.
Despite threats in October by some EU leaders, the bloc has shied away from slapping new sanctions on Russia over the conflict in Syria.
British Prime Minister Theresa May was excluded from a separate meeting of the leaders of the remaining 27 member states.
They were expected to formally confirm who the chief Brexit negotiators on the EU side will be, and to urge the UK to trigger Article 50 of the Lisbon Treaty as soon as possible.
Ms May has said she "welcomes" the fact that EU leaders will meet separately after the summit.
Arriving in Brussels Ms May said: "As we are going to invoke Article 50, trigger the negotiations by the end of March, it's right that the other leaders prepare for these negotiations as we have been preparing.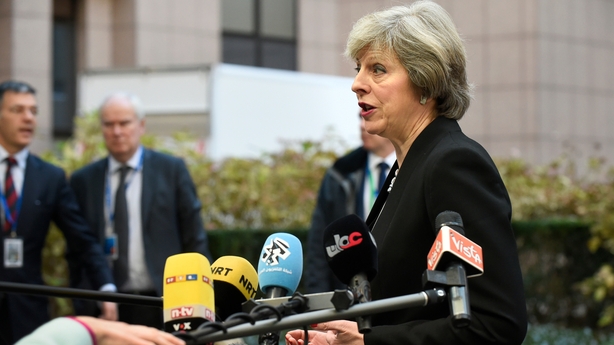 "We will be leaving the EU. We want that to be as smooth and orderly a process as possible. It's not just in our interests it's in the interests of the rest of Europe as well."
Ms May declined to answer requests from journalists on whether a long term deal between the UK and EU could take ten years, as reported this morning.
Britain's EU ambassador privately told the government that a post-Brexit trade deal could take a decade to finalise and even then may fail.
Sir Ivan Rogers warned ministers in October that other EU members believe a trade deal may not be hammered out until the early to mid-2020s, according to the BBC.
He also reportedly said European leaders believe the deal is likely to be a free trade arrangement rather than continued single market membership.
But a No 10 spokesman said the government was not familiar with the remarks and remained positive it could broker a Brexit deal.
We need your consent to load this rte-player contentWe use rte-player to manage extra content that can set cookies on your device and collect data about your activity. Please review their details and accept them to load the content.Manage Preferences
The Brussels summit was the final one in what has been a bruising year, and leaders will be desperate to show they are getting to grips with some of the challenges.
Leaders are also expected to commit to pressing ahead with the EU-Turkey agreement which, officials say, has dramatically decreased the flow of migrants into Europe.
There will also be pledge to deepen defence cooperation, while Taoiseach Enda Kenny has joined 14 other leaders in calling for the EU to complete what is known as the digital single market in order to boost innovation and reduce transaction costs for business.