Gardaí who take industrial action should lose the right to build up pension entitlements for five years, according to a new report on garda pay and industrial relations.
The report was commissioned under the Haddington Road Agreement, and was carried out by former Labour Court chairman John Horgan.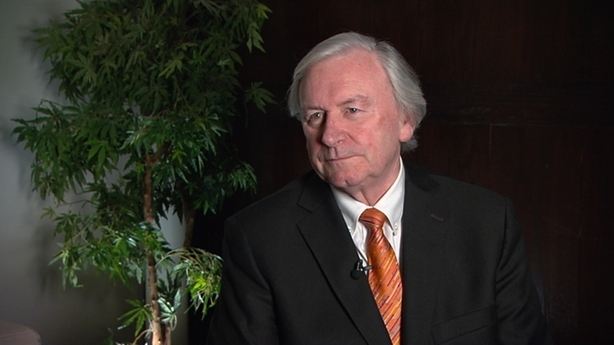 While preparing his report, the threat of strike action by gardaí was only averted by an eleventh-hour Labour Court recommendation that will cost the state an additional €50m a year in pay and allowances.
Mr Horgan notes that the recent industrial unrest had shown that the vast majority of gardaí were prepared to take strike action - and that must not be allowed to continue.
He recognises that the potential loss of pension accrual is an unprecedented measure, which will be resisted by members of An Garda Síochána.
However, he describes it as a reasonable measure given that in future, gardaí will have full negotiating rights including access to the Workplace Relations Commission and the Labur Court to resolve any issues.
He asked both the official side and the garda bodies to propose alternative sanctions for industrial action to his pension proposal, but none was forthcoming.
He said the pension sanction should be automatic as it was unlikely members of the force would enforce discretionary penalties. He says it would be "folly" to introduce another law that would not be enforced.
Mr Horgan urges Minister for Justice Francis Fitzgerald to introduce the pension sanction immediately.
The Garda Press Office has said Commissioner Nóirín O'Sullivan is currently studying the report.
Garda pay composed of three elements
On pay, Mr Horgan finds that the remuneration of gardaí is composed of three elements.
The first is basic pay, which following the recent Labour Court recommendation, will range from €30,000 to €50,000 at garda rank. By his calculation, allowances and overtime add a further 30%.
He then describes the garda pension entitlements as a substantial and significant benefit, which he calculates would require an extra €40,000 a year to fund. This would bring the real value of total average garda compensation to around €100,000.
He acknowledges that this is a "rough and ready" calculation, and recommends that a more detailed analysis be carried out by the Public Service Pay Commission.
Mr Horgan is highly critical of existing industrial relations structures dealing with gardaí, describing them as anarchical and disordered with no proper rules of engagement.
He recommends that the garda bodies - the Garda Representative Association and the Association of Garda Sergeants and Inspectors - should become full trade unions with access to the WRC and the Labour Court on the same basis as other unions.
He says the current GRA and AGSI are not properly constituted or governed, and because of this they were not bound by any minimal union governance mechanisms when the threat of industrial action arose.
However, he also finds that in future they should be funded solely from members' contributions, and all State financial support should cease.
Mr Horgan says management of An Garda Síochána should take a greater role in industrial relations negotiations, which are generally handled by the Department of Justice and the Department of Public Expenditure and Reform.
He includes a draft dispute resolution agreement to help to pre-empt further conflicts getting out of hand and urges that all parties should agree that there would be no strikes or other industrial action.
Mr Horgan said all the parties should engage with the Public Service Pay Commission in all its relevant work, including on the issue of pay restoration and other evaluations.
He notes that the pay measures of the recent Labour Court recommendation have pre-empted any substantive findings by him on pay or allowances.
He cautions that the recommendations are not interdependent, so refusal of one should not delay implementation of others.
GRA President Ciaran O'Neill said the proposed pension action is not fair, just, legal or lawful.
Mr O'Neill told RTÉ's News At One that the Department of Justice has also questioned the legality of the sanction.
"I was in the room when the employer actually raised the query in respect of it, and questioned the legality of it, and I'd have to question it myself.
"I don't think what's been proposed is either fair, just, or legal or lawful. Every other civil servant has the right to strike; the the right to withdraw their labour."
Mr O'Neil said gardaí should have the legal right to strike, describing the report as contradictory in its findings.
He said he believes discussions need to take place in respect of the report, saying the figures provided by Mr Horgan are inaccurate.
Mr O'Neill said the GRA would like an independent board to look at garda pay.
Meanwhile, AGSI President Antoinette Cunningham said garda overtime earnings are subjective, and should be excluded when looking at earnings, saying overtime is not an option and that members of the force are compelled to do it.
Ms Cunningham told RTÉ's Today with Sean O'Rourke that the AGSI is disappointed by Mr Horgan's report on the pay and conditions of gardaí, adding that his conclusions do not resolve anything.
"I absolutely think that overtime is subjective. It is there as a necessary evil. Policing is demand driven. It's led by crisis situations, and I think if you are going to look at the basic salary of members of An Garda Síochána, you should exclude overtime from that. We would have been better off to work on a basic salary and stop the confusion and the rough and ready calculations that were produced."
She said if there is a requirement on gardaí to give up the option of strike action, they should be treated differently to others.
Ms Cunningham said the AGSI is willing to engage in discussions on how strike action should be dealt with.
Speaking today, Ms Fitzgerald welcomed the review and said: "The recent industrial relations difficulties in An Garda Síochána make it imperative that we find new and better ways of doing our business and the Horgan Review will provide a valuable input into the drafting of the legislation that the Government is committed to enacting to give the garda associations statutory access to the Workplace Relations Commission and the Labour Court."