Twin blasts rocked Istanbul today, with a car bomb detonating at a football stadium as a suicide attacker struck a nearby park, Interior Minister Suleyman Soylu said.
"Two bombings may have taken place according to our understanding: one outside the stadium... the other at Macka Park," Mr Soylu told reporters in Istanbul.
"The explosion at Macka Park is believed to have been carried out by a suicide bomber," Mr Soylu said.
The suspected car bomb outside the football stadium has reportedly killed 13 people and wounded a number of others, hours after the end of a match between two of Turkey's top teams.
Broadcaster NTV said the explosion targeted a police vehicle that was leaving the stadium after fans had already dispersed.
Armed police sealed off streets around the Vodafone Arena, home to the Besiktas football team.
A police water cannon doused the wreckage of a burned-out car and there were two separate fires on the road outside the building.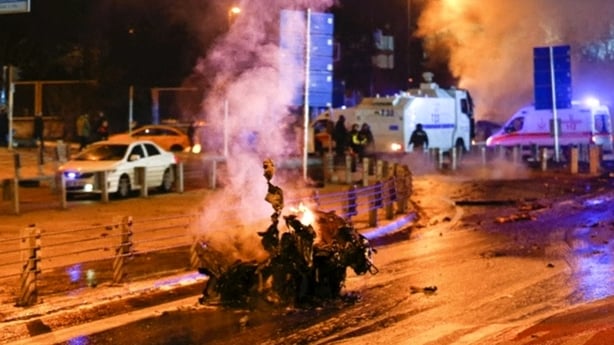 Turkish soccer team Bursaspor said none of its fans appeared to have been injured in the explosion.
"We have contacted our fan groups. There appear to be no injuries among our fans. We wish injured citizens a quick recovery," Bursaspor said in a statement on its Twitter account.
#Istanbul. explosions broke nearby windows. witness heard gunshots, 100+ rounds. now sirens.

— Richard Engel (@RichardEngel) December 10, 2016
Witnesses said they heard two blasts outside the stadium, which lies on the edge of the Bosphorus in central Istanbul and is home to the Besiktas soccer team.
"It was like hell. The flames went all the way up to the sky. I was drinking tea at the cafe next to the mosque," said Omer Yilmiz, who works as a cleaner at the nearby Dolmabahce mosque.
"People ducked under the tables, women began crying. Football fans drinking tea at the cafe sought shelter, it was horrible," he said.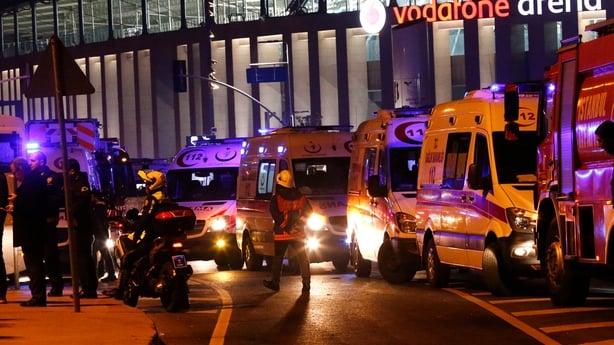 "I condemn the cruel terror attack in Istanbul. Those attacking our nation's unity and solidarity will never win," Sports Minister Akif Cagatay Kilic said on Twitter.
Transport Minister Ahmet Arslan described it as a terrorist attack.
President Tayyip Erdogan, who was in Istanbul at the time of the explosion, had been in contact with the chief of Istanbul police and the prime minister and was following developments closely, sources in his office said.
Turkey has been hit by a series of bombings in recent years, some blamed on so-called Islamic State militants, others claimed by Kurdish and far-leftist militant groups.
In June, around 45 people were killed and hundreds wounded when three suspected IS militants carried out a gun and bomb attack on Istanbul's Ataturk airport.