The Government has lost a Dáil vote.
The Government amendment to a Sinn Féin motion on pension equality legislation was defeated.
However, a Fianna Fáil amendment to the motion was passed with the Government abstaining.
The Government's amendment was defeated by 83 votes to 49 after Fianna Fáil voted with Sinn Féin.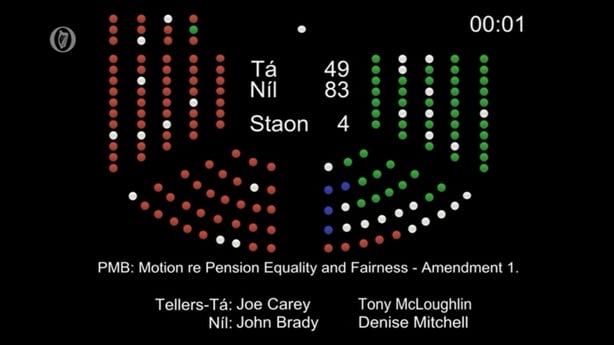 The Private Members Bill, which was proposed by Wicklow TD John Brady, called for the restoration of pension rates and bands to their 2012 level.
It also called for a reduction in the requirement for State pension eligibility from 520 to 260 contributions.
A vote on a Fianna Fáil amendment to the bill was eventually passed by 51 votes in favour to 37 against, with 46 abstentions.
The amendment acknowledged there is an issue with the eligibility criteria for the State pension and that a costed plan was needed to address it.