Sinn Féin leader Gerry Adams has denied an accusation that he lied to the Dáil in relation to the murder of a prison officer in the 1980s.
Mr Stack, who was a chief officer in Portlaoise Prison, died 18 months after he was shot in the back of the neck in an IRA attack.
Mr Adams addressed the Dáil yesterday evening, saying the shooting of Brian Stack was wrong, a grievous loss for his family, and should not have happened.
Mr Adams said that in 2013 Brian Stack's son, Austin, gave him four names who he believed had information on the case, which he had been given by gardaí and journalist sources. He said Austin Stack had also given the names to Fianna Fáil leader Micheál Martin.
Mr Adams said that to remove any uncertainty or ambiguity he e-mailed the Garda Commissioner the names Austin Stack had given him. Mr Adams said he never described those named as "suspects" and he said he made it clear that he had no information on the death of Brian Stack.
Son of IRA murder victim Brian Stack confronts Sinn Féin leader Gerry Adams, calling him a "disgrace" at a press conference pic.twitter.com/66lDwiXf01

— RTÉ News (@rtenews) December 8, 2016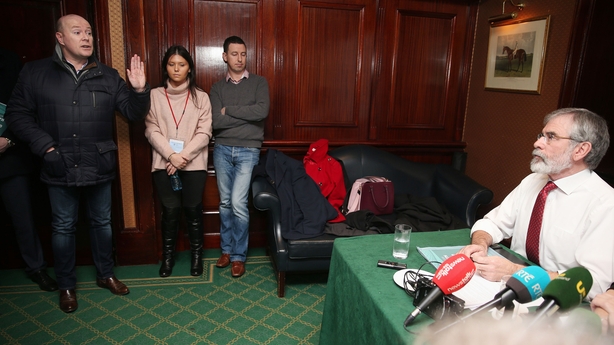 However, during a press conference being given by Mr Adams this morning, Austin Stack accused the Sinn Féin leader of telling lies.
Mr Stack also demanded that Mr Adams reveal the name to gardaí of an IRA figure that he brought the Stack brothers to meet.