The Taoiseach has said he is confident that the EU is big enough and strong enough to deal with thefallout from yesterday's referendum in Italy and the subsequent resignation of the country's Prime Minister.
Speaking in Claremorris, Co Mayo this evening, Enda Kenny said the result reflected the views of the electorate in respect of proposed constitutional change and not in relation to the European Union or its future.
He said it was important to note that the parties opposed to the referendum, such as the Northern League, the Five Star movement and Forza Italia, did not agree with each other on a range of other issues.
He added that markets had been quite stable following the resignation of Matteo Renzi.
Mr Kenny also welcomed the results from the Austrian election yesterday, saying they marked a move to what he described as a "more normal decision of politics".
Enda Kenny says the Italian referendum result reflects voters' views on constitutional change, not EU membership https://t.co/pymANowd2E pic.twitter.com/9IRBkGvOkM

— RTÉ News (@rtenews) December 5, 2016
Mr Kenny was echoing comments from his Minister for Finance, who earlier dismissed fears of a fresh eurozone crisis following the result and its potential effect on Italy's shaky banking sector.
"My experience of government finishes here," Mr Renzi told a press conference after the No campaign won what he described as an "extraordinarily clear" victory in the referendum on which he had staked his future.
Speaking at a meeting of eurozone finance ministers in Brussels, Mr Noonan admitted that while some Italian banks were "weak", there would be no knock-on effect on the Irish banking sector.
"There's always concern when you hear stories about banks being weak, and some of the banks in Italy are weak, but the president of the European Central Bank Mario Draghi is Italian.
"And I can't envisage a situation that a European Central Bank under Mario Draghi would allow the Italian banks get into difficulty.
"There is no contagion effect [on Irish banks] any more. That's all in the past now, there's no connection," he told reporters.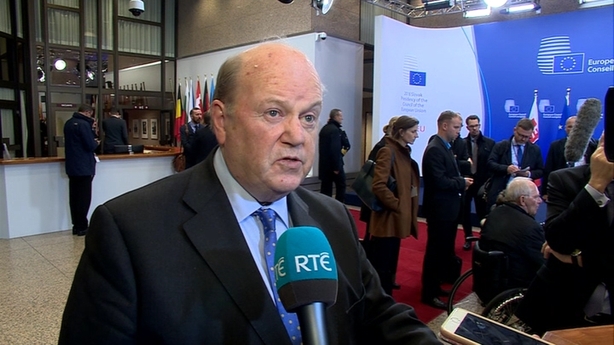 Mr Noonan also signalled his support for Enda Kenny to remain taoiseach until 2018 due to the "uncertain economic circumstances" following Brexit and the recent election of Donald Trump.
He said: "I am a strong supporter of the Taoiseach."
Minister Noonan added: "I think he has made a huge contribution to the security of Ireland and the economic prosperity of Ireland and in the uncertain economic circumstances that we're in now, with Brexit and the Trump presidency, and populism all over Europe he has an ongoing contribution to make."
The Minister for Finance said that although the markets had gone down "on all fronts" following the referendum result, they had recovered "very quickly".
"It seems to me now that there isn't a financial crisis coming from the referendum in Italy.
"Of course there's an internal constitutional reform issue. It wasn't any adjudication on what the Italians think of the European Union, so it was in a different space from Brexit or the Austrian [presidential vote]."
Following a discussion between eurozone finance ministers this morning on loosening austerity rules, Mr Noonan said he would like "more flexibility within the rules" so that the Government could invest more on what he called social and economic infrastructure, "the kind of investment in new industries to take account of what's coming down the road, and the new digital economy".