About 100 current and former employees of Independent News and Media have protested over significant cuts to their pension entitlements.
It follows last month's announcement by the company that it will no longer contribute to the long-standing defined benefit pension scheme, which will effectively trigger the closure of the scheme.
The protest took place outside an extraordinary general meeting of INM shareholders as management sought shareholder approval for corporate measures that would enable a resumption of dividend payments.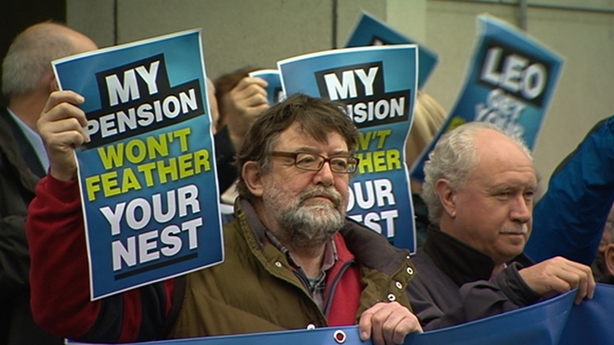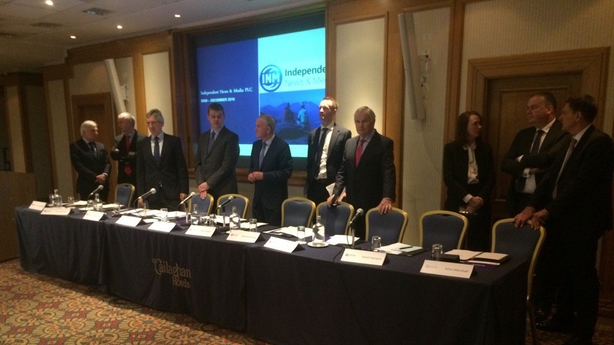 There were angry exchanges as current and former employees sought an explanation from the board for the decision to cease contributions to the company pension scheme.
Company chairperson Leslie Buckley said that while he and the board understood their concerns, it would not be appropriate for him to comment because there are ongoing discussions between the pension trustees and the company on the issue.
Meanwhile, two resolutions to restructure the balance sheet in a way that would permit the resumption of dividend payments to shareholders were not passed on a show of hands.
A written poll of shareholders at the meeting took place and it was expected that the resolution would be passed on the basis of proxy votes already submitted. 
At a meeting of the National Union of Journalists this morning, the pension move was strongly criticised by members of the scheme who will see an average of 70% of the value of their pensions entitlements wiped out.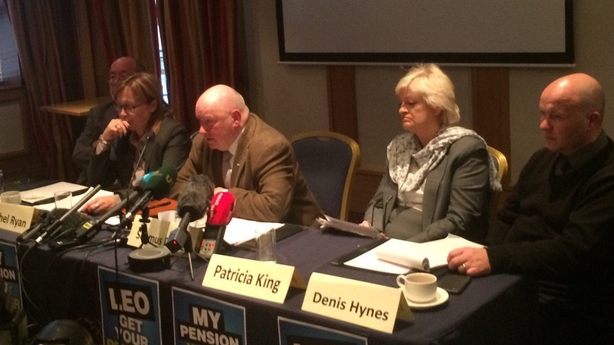 Irish Secretary of the National Union of Journalists Séamus Dooley called on Minister for Communications Denis Naughten to have regard to the controversy over the pension cuts when adjudicating on whether to permit INM's proposed acquisition of the Celtic Media Group.
INM shareholders include businessmen Denis O'Brien and Dermot Desmond, who between them own almost 45% of the company.
In 2013, Independent News and Media restructured its defined benefit pension scheme.
Under that ten-year plan, staff had to accept benefit cuts of around 40%.
But last month INM announced that it would cease contributions to that scheme citing factors including regulatory funding requirements and falling bond yields.
Although INM will contribute to a defined contribution scheme in future, current and former employees now face total benefit cuts averaging 70%.
Employees argue that closing the pension scheme will boost INM's balance sheet, and that some of that should go to plug the gap in pension entitlements.
INM says that as it is involved in a process with the trustees, it would be inappropriate to comment.
Union briefing re pension cuts at INM gets underway  -protest to follow outside EGM at 1330 pic.twitter.com/XPSaZVplLJ

— Ingrid Miley (@ingridmileyRTE) December 5, 2016
Speaking on RTÉ's Today with Sean O'Rourke, former Irish Independent business reporter and former trustee of the pension fund, Jim Aughney, said the deferred pension package that he agreed at the time of leaving the Independent on a redundancy package in 2007, was agreed on the basis of the scheme remaining in place and now he found himself in the position where his pension could be greatly reduced.
"I was expecting at age 65 to get a pension after 26 years' service of €28,000 a year. With the restructuring in 2013 that is down now, the best I can expect is €16,000," said Mr Aughney.
"And with the proposed changes I calculate I'll be reduced even further down to €11,000 a year, which is less than €250 a week."
Don Lavery, former security correspondent with the Irish Independent, said he was hopeful that big shareholders, such as Mr O'Brien, could be persuaded to change their minds.
"Mr O'Brien has a very good reputation for helping charities and I think he should look to his own employees as well, or even ex-employees. I'm hopeful that he will change his mind."
Meanwhile, a spokesperson from the Department of Social Protection has said: "The minister [Leo Varadkar] has met with the Pensions Authority in the last few weeks and asked them to consider issues arising from defined benefit pension schemes.
"The Pensions Authority is responsible for investigating alleged breaches of the Pensions Act impacting on benefits or failure to pay benefits due.
"'It's important to note that there are many different types of Pensions: the state pension non-contributory which is means-tested and funded from general taxation, the state pension contributory which is not means-tested and is funded from social insurance contributions, public service pensions, defined contribution and defined benefit pension which are private trusts controlled by employers and their current and former employees and personal arrangements like PRSAs.
"The issues and challenges are different in all cases."