Taoiseach Enda Kenny has held meetings with two of US President elect Donald Trump's top economic advisors to discuss trade links between Ireland and the US.
He also met the former Mayor of New York Michael Bloomberg.
The Taoiseach is just wrapping up a three-day business and trade trip to New York and California.
Despite efforts to schedule a meeting between Enda Kenny and Donald Trump, it did not happen.
However, the Taoiseach did meet with two members of the new president's Strategic and Policy Forum including the chairperson.
The forum comprises 16 chairmen and CEOs of the biggest companies in America, including General Motors, Walmart, Disney, Boeing, and IBM.
Mr Kenny held a "substantive" meeting with Stephen Schwarzman, the Chairman, CEO and co-founder of Blackstone.
Mr Schwarzman has just been named the chairperson of this new economic advisory group.
Mr Kenny also met the chairman and CEO of JP Morgan Chase Jamie Dimon.
Mr Dimon had been tapped to be the Treasury Secretary in the Trump administration but is reported to have turned down the offer.
He is however serving in Mr Trump's Strategic and Policy Forum.
This new economic advisory group will meet for the first time at the White House in January following Mr Trump's inauguration.
Meanwhile, a leading US healthcare provider has signed a new agreement with Enterprise Ireland giving access to US markets for Irish companies.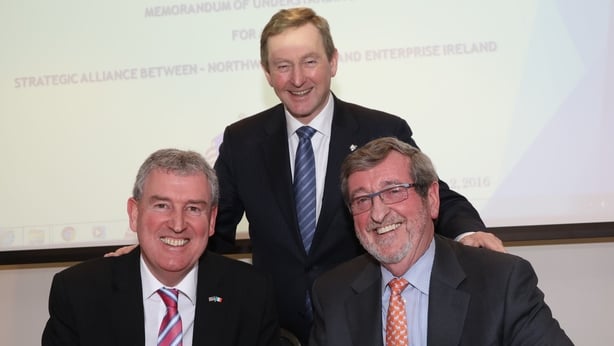 Under the agreement, Irish companies will get access to clinicians and decision-makers in the New York-based company Northwell Health which operates 21 hospitals on the east coast of the United States.
Northwell Health will also have access to Irish companies at an early stage of innovation to work with them and to provide investment.
The agreement was signed at the Irish Consulate in New York, and witnessed by Mr Kenny.
Northwell Health CEO and President Michael Dowling, originally from Co Limerick, said that Ireland was a centre of excellence when it came to medical provision innovation.
He said the agreement had been in the works for three years.
In addition to the broader partnership that was signed in New York, two deals were signed with Irish companies.
The agreements signed with Salaso and with i360, two new Irish companies that will now have access to the expertise of the Northwell Health Group comprising 21 hospitals, 61,000 employees and nearly 14,000 affiliated physicians, which provides healthcare to over four million people.