US President-elect Donald Trump has said he will nominate retired US Marine general James Mattis, who oversaw US war efforts in the Middle East, to be his defence secretary.
"We are going to appoint 'Mad Dog' Mattis as our secretary of defence," Mr Trump told a large crowd in Cincinnati, Ohio, referring by nickname to the general who headed the US Central Command, giving him authority over troops in Iraq and Afghanistan.
"He's our best. They say he's the closest thing to [World War II-era] General George Patton that we have," Mr Trump said.
The announcement was apparently made days ahead of schedule as his transition team had already said there would be no more cabinet announcements this week.
"Okay. So I gave up a little secret. My people over there are probably saying, 'You weren't supposed to do that, Mr Trump,'" the president-elect said.
Mr Mattis, who is 66, commanded a Marine battalion during the First Gulf War and a Marine division during the 2003 invasion of Iraq.
In 2010, the Washington state native was named to head the US Central Command.
That gave him authority over troops in Iraq, where he helped develop a counterinsurgency approach before overseeing the US withdrawal, and Afghanistan, where he implemented a troop surge.
It also gave him responsibility for an area including Syria, Yemen and Iran.
Previously, he led the US Joint Forces Command and a NATO command charged with preparing the alliance's forces to meet future challenges.
'Mad Dog' has been quoted as saying:
"Be polite, be professional, but have a plan to kill everyone you meet."
To serve as defence secretary, Mr Mattis will need Senate confirmation - and a waiver of a law that bans uniformed military officers from serving in that post for seven years after leaving active duty.
The law is intended to ensure the bedrock notion of civilian control of the nation's military.
Trump promises to build border wall
Meanwhile, Mr Trump has promised to bring the country together after a divisive campaign during his first post-election victory rally.
Ohio was the first stop on his "Thank You Tour" .
President-elect Donald Trump returns to the podium as he takes victory lap tour of the US pic.twitter.com/7A0iJkPbks

— RTÉ News (@rtenews) December 2, 2016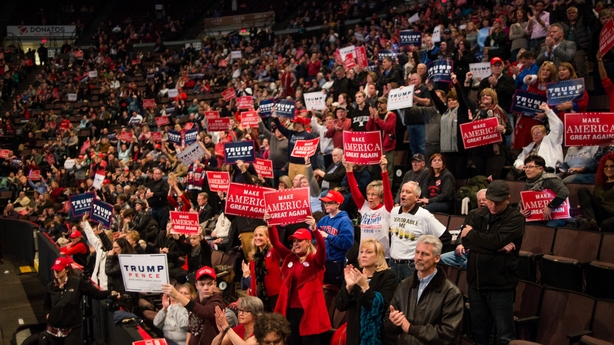 Mr Pence joined Mr Trump on the stage, after the two had earlier announced a deal to keep hundreds of jobs in Indiana by offering the Carrier manufacturing company millions of dollars in tax incentives.
Mr Trump also said he would be asking American companies not to move their jobs abroad.
At many parts of this rally, the US President-elect sounded like he had on the campaign trail, with promises to build a wall along the Mexican border, ban immigration from countries with links to terrorism and clamp down on illegal immigrants, and with his usual attacks on what he calls the dishonest media.
When Mr Trump said it was fun fighting and beating Democrat Hillary Clinton, the crowd chanted "lock her up". Although Mr Trump has said he no longer plans to appoint a special prosecutor to investigate Mrs Clinton, he did not stop the chants.
A record number of hate crimes have been reported across the US since the election, and Mr Trump did address that, saying he condemned bigotry and urged supporters to set aside the language of hate.