The Minister of State for Gaeltacht Affairs has said his Department has been in discussions to provide an interim ferry service to Inis Mór.
Ferry services to the island have been suspended until March as ferry operators object to passenger levies proposed by the council, which they say are too high.
Responding to questions in the Dáil, Seán Kyne pointed out that the service was suspended due to a dispute regarding by-laws enacted by Galway County Council.
Mr Kyne added that the council and the owners of the service have been in discussions and he said that recommendations have been made arising out of those discussions.
Earlier, Tánaiste Frances Fitzgerald described the decision as "extremely disappointing".
Speaking in the Dáil during Leaders' Questions, Ms Fitzgerald said Mr Kyne has been in contact with Galway County Council, the Island Co-op and the ferry operator Island Ferries Teoranta.
She said Mr Kyne has appealed to the company to continue the service, and he was "deeply concerned" about the impact of ending service.
She said the operators have told Mr Kyne the continuation of the service would depend on the outcome of a meeting of Galway County Council today, which was the budgetary meeting of the council.
Ms Fitzgerald added that tenders for the air service would be due in the next few weeks.
The Tanaiste confirmed that the Mr Kyne had been in contact with the Department of Defence in relation to securing the assistance of the navy, but she urged the county council to give due consideration to proposals put forward by council CEO Kevin Kelly, as they enter further discussions with the operator.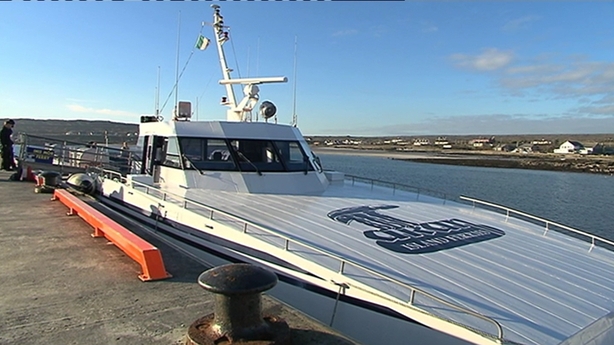 A Galway County Councillor has described the decision by Island Ferries Teoranta as "despicable".
Speaking to RTÉ's Morning Ireland, Independent councillor Thomas Welby said there is "no rational reason" why the island ferry company is refusing to levy passengers 80 cent to travel to Inis Mór on the Aran Islands.
A budget meeting of the council will today consider their demand for a reduction in the levy from 80 to 40c per passenger, and to scrap the €5 passenger fee for permanent residents on the island.
Mr Welby said the monies were not to raise profit but were to pay for necessary works and leases on the harbour.
Jason O'Sullivan, a spokesperson for Island Ferries Teoranta, told the programme the costs upon which the levy based have not been independently audited or assessed.
He also said the company felt it was a "discriminatory tax" and said the route was not profitable during the winter months.