Minister for Finance Michael Noonan has said the recommendation by the Expert Commission report on water charges that the State could become the main customer of Irish Water and not the householder was doable.
Minister Noonan also told the Fine Gael Parliamentary Party meeting this evening that the future of water charges could not become an election issue.
He said the overall budget was €58 billion and that in one month, certain taxes could exceed €200 million in terms of target.
He added that against this, if everyone paid their water bill in one year, it would result in more than €100 million.
TDs and Senators broadly agreed that Fine Gael should support the principle of charging for water and people who have paid should not be worse off than those who have not.
Cowen supports principle of charges for excessive water usage
Fianna Fáil's environment spokesperson has said he supports the principle of a charge for excessive, or wasteful, water usage, as recommended by the Expert Commission.
Speaking on RTÉ's Six One Barry Cowen said he does not accept that it is a "back door" to a charge for a greater number of people who are not engaged in wasteful usage.
Mr Cowen said he does not necessarily support a full roll out of a metering programme, adding that further "investigations" are needed as to how water is paid for through general taxation.
The commission has recommended that normal household usage should be paid for by the State in the form of general taxation.
Fianna Fáil yesterday stated that it would not be adopting a final position on water until after a special Oireachtas committee looked at the issue.
However, in a statement last night Mr Cowen said it was clear that the previous regime of charges, which has been suspended, would not be re-introduced.
This evening Mr Cowen said the party's position on water was the same as in its submission to the Expert Commission, which stated water charges should be abolished and water paid by the State through general taxation.
Mr Cowen said the Expert Commission's report was very much broadly in line with Fianna Fáil's submission but he said there were many questions outstanding to do with the mechanics and economics of such a regime.
He added that the Expert Commission's recommendation that the introduction of a charge for excessive use and the State paying for normal use could be viewed as the abolition of water charges.
But he said that would depend on what quantifies and qualifies as excessive use.He said this would have to be investigated by the special oireachtas committee.
Earlier, there were robust exchanges in the Dáil as the recommendations of the expert commission that looked at the future funding of water dominated Leaders' Questions.
Under its proposals, the commission says the "vast majority" of people will no longer have to pay water charges.
However, it suggests there should be a charge for excessive use.
Minister for Education Richard Bruton reiterated that the special Oireachtas committee would tease out the issues ahead of a Dáil vote on the matter.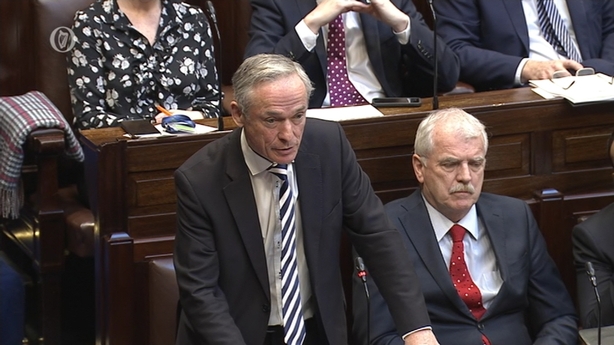 Sinn Féin's Mary Lou McDonald said her party did not support the proposal to charge for so-called excessive use. She said a low charge now would soften the blow before a hike up in the future.
Richard Boyd Barrett of the AAA-PBP also suggested the door had been left open for wider charges and described the report as a monumental political fudge to save the blushes of Fine Gael and Fianna Fáil.
Labour leader Brendan Howlin called for a referendum on the public ownership of water to be held next year and for all those who had paid their bills to be fully reimbursed.
Minister Bruton said any bill on a referendum would have to be seriously considered but said there was currently the protection of a plebiscite in place.
Overall, he reiterated the Government's position that the special Oireachtas committee should be allowed to tease out the issues.
There are 20 members of the Oireachtas on the committee, with every political grouping and party represented.
They have three months to work through the recommendations of the report and to bring recommendations to the Dáil for a vote.
Minister for Housing, Planning and Local Government Simon Coveney has said the water metering programme will continue to monitor water usage.
Speaking on RTÉ's Morning Ireland, Mr Coveney said the commission's report is "very supportive of the metering programme from the point of view of fixing leaks".
The minister added: "We can't charge for the wastage of water unless we're actually measuring what people are using, so yes, of course, this report is very strong in its support for metering which I think is important".
Water charge protests will continue, says Murphy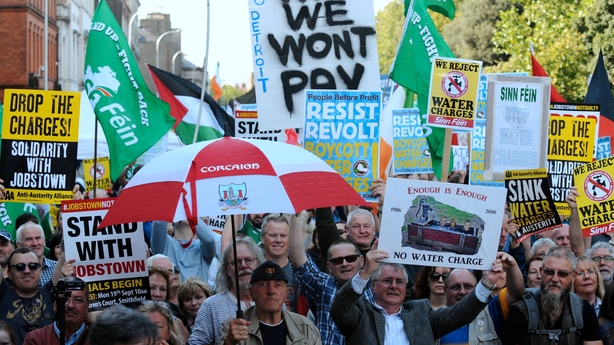 Anti-Austerity Alliance TD Paul Murphy has said his group will continue to protest over water charges, with discussions under way for a major rally in the new year.
Protests will continue "because the notion of charges for excessive use of water is in reality a trojan horse for the re-introduction of full charges", Mr Murphy added.
Former environment minister Alan Kelly described the report by the expert commission as "a fudge" and said he does not believe its recommendations will meet European requirements.
The Labour Party TD said we now have "the worst of every world"; working people will now pay, again, through their taxes for those who do not want to pay water charges.
Rural people who have paid to put in a well or contributed to group schemes will now have to pay again through their taxes which, he said, was not equitable.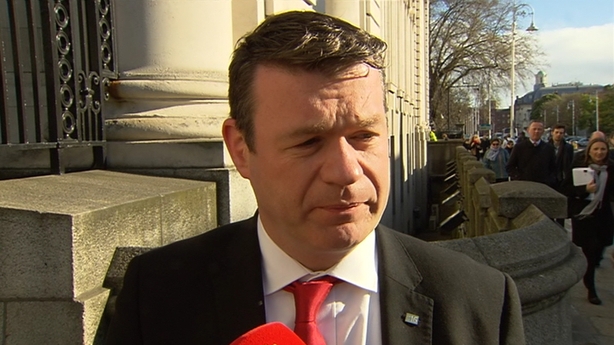 He said he did not believe the installation of water meters had been a waste of money. The report's recommendation to put in water meters "by request" makes no sense, he added.
Mr Kelly said rural people and business people are going to be up in arms at the proposals.
Politically, he added, he did not believe this will wear well with Fianna Fáil or Fine Gael voters and the country was suffering from populist politics.
Meanwhile, a spokesperson for the Right2Water campaign said the report does not represent a victory but said there is much to be welcomed, in particular the holding of a referendum to protect ownership of water in the constitution.
Speaking on RTÉ's Today with Sean O'Rourke, Brendan Ogle said progressive taxation is the best way to pay for water, saying that hundreds of millions of euro has been wasted on reaching that conclusion.
He described water meters as having been "rammed down people's necks" and said the "whole thing has been a sham".
Mr Ogle said the report has demonstrated that households in Ireland are not wasteful when it comes to water, saying they use up to 25% less than water users in the UK.