President Michael D Higgins has rejected suggestions that he neglected human rights concerns when making a statement after the death of former Cuban president Fidel Castro.
President Higgins has come under criticism for issuing a statement on former Cuban president Castro's passing which described him as a "giant amongst global leaders".
Yesterday, Mr Higgins said that Castro was "of a generation of leaders that sought offer an alternative global economic and social order".
In a statement this afternoon a spokesperson for Mr Higgins said the President has discussed human rights concerns with representatives of the government of Cuba on every occasion he has had meetings, in Cuba, Ireland and elsewhere.
Earlier, Minister for Foreign Affairs Charlie Flanagan said President Higgins was "entitled" to make his own views known about Mr Castro.
Speaking on RTÉ's The Week in Politics, Mr Flanagan said Castro was a complex figure with a mixed legacy and was "the last of the big strong men" of the Cold War era.
He said: "I very much respect the right, in the first instance, but also the view of Michael D Higgins.
"If you go back over the last 40 years, no one in Irish politics has done so much work or had such a level of association with Latin American politics than Michael D Higgins himself."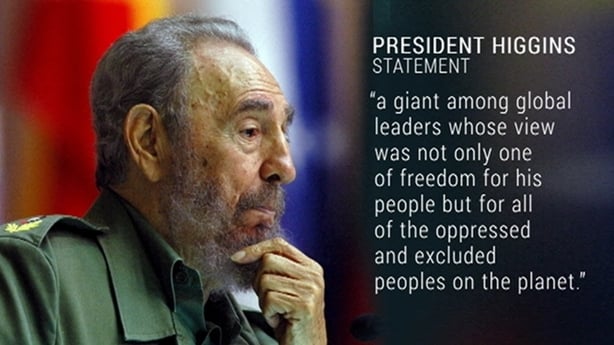 He also said he did not agree with "much of what Fidel Castro said or did and that he was "not a fan of his".
Speaking on RTÉ's This Week, Fianna Fáil's spokesman on Foreign Affairs, Darragh O'Brien, said Mr Higgins' statement was not as balanced as it could have been.
Mr O'Brien said Cuba's violent past could not be ignored and that should have been outlined in the President's statement.
"It's perfectly right and proper that our President gives condolences to the Cuban people on the passing of Fidel Castro," he said.
"There are other views contained within the statement...that would be more personal views that the president has.
"He is perfectly entitled to have those views also, as I am perfectly entitled not to agree with all of those views and I say that in a personal capacity."
Speaking on the same programme, José Miguel Vivanco, Human Rights Watch's Americas Director, described Mr Higgins' statement as "unfortunate".
Nine days of national mourning are under way in Cuba following Castro's death yesterday at the age of 90.
He seized power in 1959 and introduced a one-party communist state which he ruled for nearly half a century before handing over the presidency to his brother Raul in 2008.
In the week ahead, his ashes will be taken across Cuba before being interred in the historical city of Santiago next Sunday.
In Florida, however, people who fled his regime to the US and their families have continued to celebrate his death.
Meanwhile, Mr Flanagan said he was "surprised" to learn that his private email and password details were stolen by international cyber criminals.
The Sunday Independent reported today that Taoiseach Enda Kenny and six other Cabinet members, including Minister Flanagan, had their information compromised by hackers responsible for the world's biggest hacking scandals.
Mr Flanagan said it was a "serious issue" in terms of cyber security.
He said it is "incumbent to ensure that people exercise great care in the manner in which they use passwords and divulge passwords".
It is understood the personal information was stolen by hackers who targeted business networking website LinkedIn.