NAMA has defended its handling of the sale of its Northern Ireland portfolio of properties, Project Eagle, and rejected the conclusions of the report on the matter by the Comptroller and Auditor General.
During a ten-hour hearing, the Chief Executive and Chair of the agency stood over their handling of the sale and insisted they got the best deal for the taxpayer.
Earlier, the agency's CEO Brendan McDonagh said that the C&AG's finding that NAMA set the reserve price for Project Eagle too low was "not plausible".
He also said the report's findings of a probable loss of £190m "rests entirely on the view that NAMA applied, or should have applied, a standard discount of 5.5% to all evaluations."
Mr McDonagh said that in Comptroller and Auditor General Seamus McCarthy's previous evidence to the committee he said it was not possible to be definite about the "probable loss".
He pointed out that Mr McCarthy said there was a margin around the £190m figure but it was not possible to say what the margin might be.
During today's hearings, Mr McCarthy again stood over his report, including changing the wording of the final draft of his report to refer to a "probable" loss of £190m on the sale, rather than a "potential loss".
Independent4Change Deputy Catherine Connolly asked Mr McCarthy if he would change any word in his report, to which he replied "no".
NAMA chairman Frank Daly also defended their handling of the unsuccessful bidder, PIMCO.
Mr Daly said that a number of facts were not disclosed by PIMCO to NAMA, surrounding the involvement of Frank Cushnahan, a former member of NAMA's Northern Ireland's advisory committee.
PIMCO withdrew from the sale after they became aware of a proposed success fee of £15m to be divided equally between two law firms, Brown Rudnick and Tughans and Mr Cushnahan.
He also rejected PIMCO's previous assertion that NAMA "mischaracterised" PIMCO's role in the sale.
However, Mr Daly acknowledged that the agency should have informed Lazard, the sales advisors, of the circumstances around PIMCO's withdrawal from the sale process, but said it would not have affected the sale.
"In retrospect, it would have been better if Lazard had been aware of the real reason for PIMCO's exit. But we did not regard it as a major commercial issue at the time - given that Lazard considered the post-PIMCO competitive tension to be sufficient," he said.
Asked for a final comment as the ten hour meeting wrapped, Mr Daly insisted that no one in NAMA knew anything about Mr Cushnahan's involvement with PIMCO, or Brown Rudnick or Tughans or success fees until 10 March 2014.
He also added that his respect for the Comptroller and Auditor General was "untarnished".
Robinson contradicts 'almost everything' McGuinness told PAC
Earlier it emerged that former Northern Ireland first minister Peter Robinson has written to the Public Accounts Committee "flatly contradicting almost everything" Martin McGuinness told it.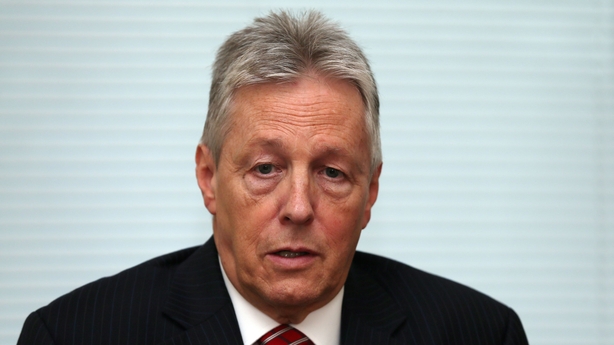 Mr Robinson has also declined an invitation to appear before the Dáil committee.
Committee Chair Seán Fleming said Mr Robinson's letter said he understands the constitutional reasons we are not answerable to the Public Accounts Committee and it is complicated by the fact that there is an inquiry in Northern Ireland to which he gave evidence.
Mr Fleming said Mr Robinson went on to point out that he recognises there is some similarity between the remit of PAC and the committee in Northern Ireland.
He also attached a copy of the statement he made to that committee.
Mr Robinson said that if the PAC wants his views on any specific committee it can email him and he will be "happy to provide a response".
Mr Fleming said that much of Mr Robinson's statement that he made to the Northern Ireland committee is flatly contradicting Deputy First Minister Martin McGuinness.
He said that the committee will have to consider those issues.
Sinn Féin's Mary Lou McDonald said that "Mr Robinson does have the opportunity to come before the committee to have his evidence tested. That is the distinction from the deputy first minister."
Independent TD Catherine Connolly said she is disappointed by Mr Robinson's decision. The Galway TD said that she believes it would have been very helpful if NAMA had attended the Northern Ireland Committee and equally it would have been very helpful if Mr Robinson attended PAC.
"We are now placed in a very difficult position where he has flatly contradicted what the Deputy First Minister said here", Ms Connolly said.
Former NAMA official Ronnie Hanna has already written to the PAC declining an invitation to appear before it as "he has a duty of confidentiality to NAMA that he still has not been released from" and secondly "because of the investigation by the NCA (National Crime Agency) and PSNI".
David Mizzells, Managing Director of Fortress, has also written to the committee declining an invitation to come before it. He said his company is the unsuccessful bidders and have previously corresponded.
NAMA accused of treating PAC with 'contempt'
This morning members of the PAC decided to suspend business to allow members to read correspondence that arrived in late from from NAMA.
Labour TD Alan Kelly and Ms Connolly accused NAMA of treating the committee with "contempt" as the detailed opening statements from NAMA only arrived at the committee at 8.20am, 40 minutes before today's 9am meeting.
Members from across the political spectrum are angry that they have not had the opportunity to read the documents ahead of the meeting as they were sent in to them so late.
Ms McDonald echoed a similar tone and said: "NAMA need to understand that as a consequence of this approach that this will not be the last time they are before us."
"This examination will be finished when it is complete and when we have answers to all the questions."
Fine Gael's Ms Madigan added: "This is not the way we should be conducting business."
She said that if this was a legal case, business would be adjourned until legal teams had the opportunity to read the material.