Irish society will need to accommodate a faster pace of decarbonising energy production and a more widespread understanding of the need for renewable energy and public support for its delivery must be achieved, Chief Executive of the Sustainable Energy Authority of Ireland Jim Gannon has said.
The SEAI said that last year saw the first significant growth in energy consumption in five years but that the amount of energy coming from renewable needs to almost double by 2020.
It says that use of renewable energy in Ireland last year, which was mostly provided by wind turbines, saved the country €426m that would otherwise have been spent on imported fossil fuels, and also prevented 3.9 million additional tonnes of carbon dioxide being emitted into the atmosphere.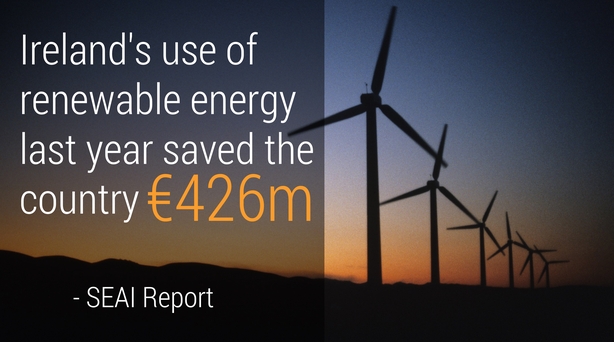 Yet much more needs to be done according to the authority and it is calling for greater public support and understanding of the need for wind turbines and other sources of renewable energy.
Speaking on RTÉ's Morning Ireland, Mr Gannon said efforts must be made to find a balance between economic, social and environmental impacts of the technologies people require.
In order to do this, he said, it is vital not only to educate people around the need and urgency in relation to the challenges we face, but to invite them to be part of the solution.
Its annual Energy in Ireland Report, published today, says Ireland has only achieved just over half its 2020 target for renewable energy so far with 9.1% of our overall energy from renewable sources.
The target is to grow that to 16% in the next four years.
Last year was the first time that overall energy use in Ireland went up to any great extent since 2010. It was up 4.9% reflecting strong economic growth.
However, the carbon dioxide emissions that resulted went up significantly more because electricity companies used 23% more coal, and 45% more oil in generating electricity because they were cheap.
While renewable accounts for 27% of electricity consumption, it does not account for 27% of energy consumed.
42% of final energy use is accounted for by transportation.
Primary energy used for transportation grew by 6.3% last year.
Transportation accounted for the largest share of energy related C02 emissions with a share of 37% up from 33% in 2005.
Although 78% of new cars are now in Class A for emissions, there are more cars on the road and people are driving greater distances.
The total mileage by all private cars in Ireland increased by 52% over the period 2012 to 2015.
Since 2010 energy prices in Ireland have increased by 4.7% in real terms, compared with an average fall of 0.1% in OECD Europe and a 14% fall in the US over the same period.
The cost of all energy imports into Ireland last year was €4.6bn, down from €5.7bn in 2014 due mainly to falling oil and to a lesser extent gas import prices.
Mr Gannon says in this year's report there are very clear signals of the challenge ahead for Ireland and further work is needed to achieve of evolving decarbonisation goals.
We need your consent to load this rte-player contentWe use rte-player to manage extra content that can set cookies on your device and collect data about your activity. Please review their details and accept them to load the content.Manage Preferences