Dublin City Council is recommending the introduction of a 30km/h speed limit in all residential areas between the Royal and Grand canals despite results of a public consultation showing most respondents do not believe it would work.
The council received 550 submissions with 267 expressing concerns such as impracticability and increased congestion.
Of these, 47 claimed it is difficult to travel at such low speeds, while 34 claimed that motorists were being targeted with most believing it was a revenue stream through speeding fines.
A further 183 said that the limit would not reduce speed on its own or that existing speed limits were not enforced.
A total of 100 agreed with the 30km/h limit.
A report to councillors states that 96 of the objections were based on the misunderstanding that the new limit would apply to arterial routes.
It states that arterial routes such as the North and South Circular Roads would continue to have 50km/h limits while Ballymun and Finglas Roads would have 60km/h and the Chapelizod Road 80km/h.
It also states that door-to-door surveys in residential areas found 78% of 420 people questioned were in favour of the new limit.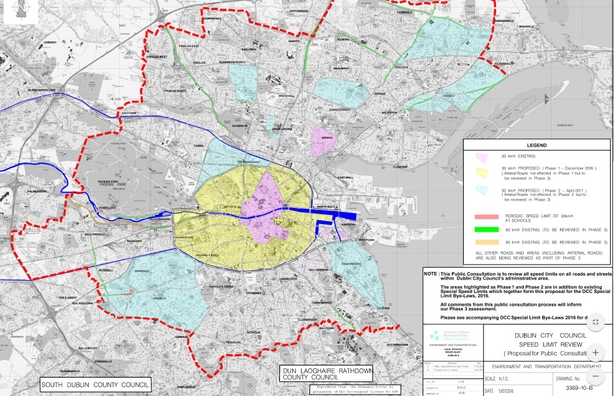 In Marino, where the 30km/h speed limit has been in operation since 2005, 96% were against a higher speed limit.
Assistant Senior Executive Engineer Roy O'Connor said in the report that the overriding consideration is road safety and that the 30km/h limit has been shown both in Ireland and internationally to reduce fatal and serious road collisions.
Mr O'Connor said the new limit would bring Dublin city into line with most of Europe.
He said many negative submissions had pointed to increased journey times for motorists but the average journey time through a restricted areas would be increased by 30 seconds.
If passed by councillors the new limit would apply to the area between the canals by 31 March 2017 and other suburban areas as part of Phase 2 on 31 May 2017. Speed limits on arterial routes will be reviewed as part of Phase 3.
The council did not agree with proposals from the Automobile Association to increase speeds on some roads including 60km/h on the quays and 80km/h limits on Fairview Strand, Ballymun Road and Conyngham Road.