The managing director of the international investment bank that advised the National Asset Management Agency on the sale of its Northern Irish property loans portfolio has told the Dáil Public Accounts Committee there were "quite a lot of unusual features" in the sales process.
Patrick Long of Lazard appeared before the committee, which is examining the Comptroller and Auditor General's Special Report into the sale, known as Project Eagle.
Project Eagle was sold in April 2014 to Cerberus, a US company, for about €1.6 billion. The C&AG report found the sale incurred a potential loss to the taxpayer of £190m.
Responding to a question from Fine Gael committee member Josepha Madigan, Mr Long said: "There were quite a lot of unusual features.
"The fact that there was one round of bidding for example, that is not unheard of but that's not usual.
"And the fact that there were fewer participants. The fact that there is a relatively tight time frame. These were unusual."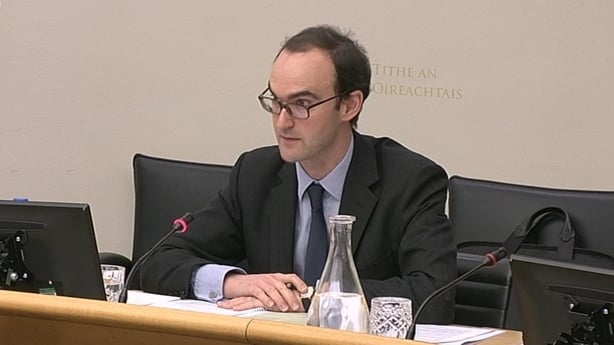 Mr Long said that from his perspective NAMA ran a highly competitive sale process that was designed to meet NAMA's objectives and resulted in the sale of Project Eagle to Cerberus at the highest price.
"In my view the sales price was the highest price available in the market at the time," he said. "If the C&AG believes there could have been a higher sale process, he is entitled to that belief."
Eight other bidders were rejected, which Mr Long said was because they did not meet NAMA's criteria and did not have the capacity to pay for the loans.
"We didn't feel like the other eight had the capacity to pay more for these loans than those that were already in the process," he said.
As for the withdrawal of the bidder PIMCO, Mr Long said that "when PIMCO withdrew we were disappointed as they appeared to be a highly motivated bidder".
He added: "We asked them why they withdrew and they said that this transaction was not for them."
We need your consent to load this rte-player contentWe use rte-player to manage extra content that can set cookies on your device and collect data about your activity. Please review their details and accept them to load the content.Manage Preferences
Sinn Féin's Mary Lou McDonald asked Mr Long if he knew former NAMA advisor Frank Cushnahan and if he had ever heard his name? "No," Mr Long responded.
Mr Long said he was "surprised" that Mr Cushnahan was in line to get success fees, or fixers' fees.
Ms McDonald criticised the way Mr Long had not shown any concern over NAMA's behaviour with the sale of Project Eagle.
She cited the international investment bank's website where it uses the terms "insight, judgement and performance".
Then she asked: "Are you angry that NAMA misled you and kept you in the dark about PIMCO's exit?
Mr Long replied: "No, I am not angry about it."
Ms McDonald added: "You seem to have spectacularly lacked insights. You were kept in the dark, therefore your judgements were compromised. I think you would accept that.
"But astonishingly you sit here in an Oireachtas committee - we are not having a cosy chat in a coffee shop - you are at a parliamentary committee and it seems to me you are not placing on the record, for whatever reason, any concern with the behaviour of NAMA in this scenario.
"They kept you in the dark. Do you know the expression 'eejit'? It's an Irish term. A patsy. They made an eejit of you."
Mr Long said: "I don't think it's my place to be angry with NAMA or to second guess the reasons why they didn't inform us of the precise circumstances of PIMCO's withdrawal."