The successful bidder for NAMA's Project Eagle loan book has said it is confident that no improper or illegal payments were made by it or any of it affiliates in connection with the controversial £1.3bn purchase.
Speaking at the Oireachtas Public Accounts Committee, a senior representative of US investment firm Cerberus said the company "did not direct or authorise anyone to make any such payments on its behalf".
Mark Neporent, Cerberus Chief Operating Officer, said the firm "invested in Project Eagle in good faith."
Project Eagle was NAMA's portfolio of Northern Ireland properties, which was controversially sold in April 2014 to Cerberus for about £1.3bn.
"We are confident that we behaved and acted appropriately at all times, and that our actions have been, without a doubt, professional and correct," Mr Neporent said.
Sinn Féin's Mary Lou McDonald questioned what was so special about Cerberus' US lawyers Brown Rudnick to merit receiving £15m for its work.
Mr Neporent said Brown Rudnick told Cerberus they had been working on the Northern Ireland portfolio for over a year and through associations with Belfast law firm Tughans, had a good understanding of it.
Tughans acted as a subcontractor for Brown Rudnick.
Subsequently £7m was discovered in the Isle of Man in an account controlled by a former managing partner of Tughans, Ian Coulter, who resigned after it was unearthed.
Today Mr Neporent said Cerebrus viewed the information it received, which included the number of borrowers, the understanding of their business plans and understanding of the economy, as commercially valuable.
Ms McDonald put it to Mr Neporent that £15m for Brown Rudnick's work was "one hell of a fee", and she asked what key stakeholders Cerberus met.
Mr Neporent said Brown Rudnick told Cerberus they would provide access to stake holders like the Northern Ireland Executive and people in the Republic.
Earlier, NAMA's former head of portfolio management told the PAC that Project Eagle was a "superb deal" from NAMA's perspective.
The Comptroller and Auditor General's report report into the sale found it incurred a potential loss to the taxpayer of £190m.
The report also raised questions with how the loan portfolio was valued and marketed for sale.
John Mulcahy told the PAC today that to sell the portfolio in one go was "an inspired transaction".
He was responding to Social Democrats TD Catherine Murphy.
The ex-chief executive of the National Treasury Management Agency and former executive official to the board of NAMA told the PAC he did not believe there was a rush to sell the loan book of Project Eagle.
Responding to Labour TD Alan Kelly, John Corrigan said the decision was made to press ahead with the sale because it represented a good transaction in terms of NAMA's objectives.
Mr Corrigan said that the alternative was to go back and sell the portfolio on a piece-meal basis.
He said the view of the NAMA board was that a bulk sale was a superior strategy.
Meanwhile, the company that under bid to acquire the Northern Ireland loan portfolio has written to the PAC to say that it learned of Project Eagle through media reports.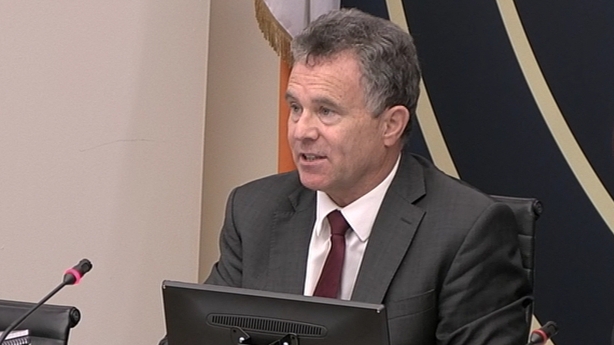 In a letter read by Committee Chairperson Séan Fleming this morning, Fortress Investment said it learned of the formal sale through press reports that NAMA was seeking to complete a sale of the Northern Ireland loan portfolio to Pimco on or around 13 February 2014.
It said when Fortress expressed an interest, it was invited to bid and substantial resources were devoted to the process, which involved the deployment of a large team of its professionals and the engagement of a number of external advisors at substantial expense to the firm.
As to why it made a bid below the reserve price the letter said Fortress made its bid on the basis of its professional judgement, its valuation of the assets for sale, and the circumstances of the transaction.
Fortress said the bid process required an unconditional bid, which would not be syndicated or financed pre-bid, and this was one of the considerations it took into account.
Ceann Comhairle Seán Ó Fearghail said significant issues arose from correspondence that the committee had not previously put to NAMA and that there would be "quite a number of new questions next week".
Mr Ó Fearghail said he had invited representatives of the investment company to attend the committee.
Mr Mulcahy accused the Comptroller and Auditor General of making a commercial judgement in his report on the sale of NAMA's Northern Ireland loan portfolio.
He said the Comptroller and Auditor General made an economic judgement in the report.
Independent TD Catherine Connolly challenged Mr Mulcahy in his summation of the report and suggested that he go back and read it.
Mr Mulcahy said it was his view that the Comptroller and Auditor General made a commercial judgement but was saying otherwise.
He said if the Comptroller and Auditor General had not used the words "a probable loss", he would have no problem with his report.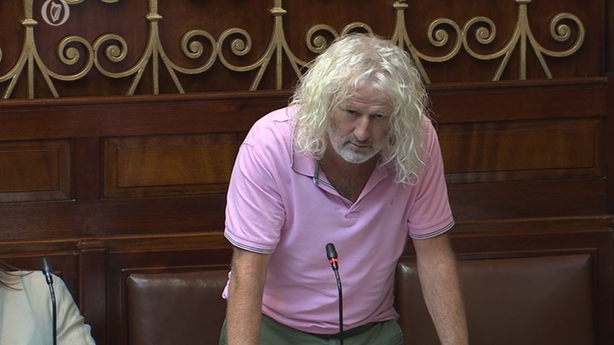 Indepedents4Change TD Mick Wallace told the Dáil that he has written to NAMA naming 20 people who worked for the agency who he alleged were involved in "serious malpractice".
Mr Wallace said he had submitted a letter to NAMA's chair last week, asking how many had been reported to gardaí, but he had not yet received a reply.
He also said NAMA had been consistently trying to undermine the Comptroller and Auditor General and he insisted Project Eagle was not a competitive process, but a scam.
He called on Mr Donohoe to suspend the NAMA board, warning it could end up being the biggest scandal in financial history.
Mr Wallace also said he had travelled to Asia last week to meet a business man who contacted him through the NAMA leaks website he set up.
"Nama from start to finish, stinks to high heaven", Mr Wallace said.
Mr Donohoe rejected the call to suspend the board of NAMA, and said the Comptroller and Auditor General's report was now part of the work of the PAC investigation.
He told Mr Wallace, if he had evidence, he should himself appear before the PAC.