An Irish health survey by the Central Statistics Office has found that 83% of people aged 15 and over report their health as good or very good.
It shows that 32% of people say they have a long-standing illness or health problem.
The three most commonly reported health conditions were chronic back defects, high blood pressure and allergies.
Around 8% of the population had reported symptoms of at least moderate depression in the two weeks prior to interview.
Irish Health Survey 2015 is published today.https://t.co/JNRptGoEg9 pic.twitter.com/KWvW4JStnj

— CSO Statistics (@CSOIreland) November 16, 2016
The average annual number of GP visits was 6.2 per person.
The survey shows that 22% of the population smokes, 81% drinks alcohol and 53% are overweight or obese.
More than one billion people living with high blood pressure
A record 1.13 billion people around the world are living with high blood pressure, with the condition no longer mainly confined to richer Western countries, research has shown.
But there was better news for the Ireland, which has seen rates of hypertension fall since the mid-1970s.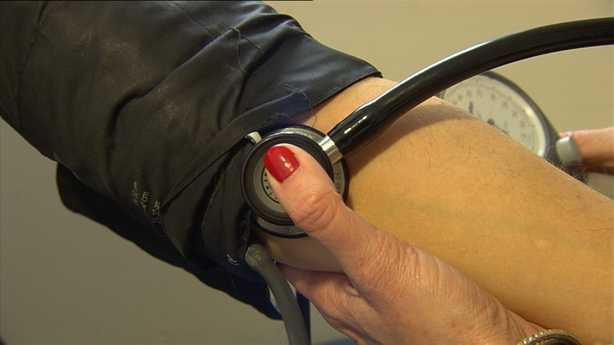 Global prevalence of high blood pressure, also known as hypertension, has almost doubled since 1975, when an estimated 594 million people were affected, the study found.
High blood pressure, which is linked to heart attacks and strokes, used to be thought of as a problem of the developed world.
Today, it is poorer countries that are most threatened by rising rates of the condition, scientists say.
Professor Majid Ezzati, who led the international study, said: "High blood pressure is the leading risk factor for stroke and heart disease, and kills around 7.5 million people worldwide every year.
"Most of these deaths are experienced in the developing world.
"Taken globally, high blood pressure is no longer a problem of the Western world or wealthy countries. It is a problem of the world's poorest countries and people."
The trend might be explained by poor nutrition in early life, which has been shown to increase the risk of high blood pressure among adults, said Professor Ezzati, from Imperial College London.
In contrast, high income countries had driven down rates of hypertension.
Last year 22% of men and 16% of women in the Ireland had high blood pressure.
The figures show a dramatic improvement since 1975, when 38% of Irish men and 27% of women in Ireland had high blood pressure.
A diagnosis of hypertension is based on either or both of the two blood pressure readings. The first reading, systolic, measures pressure in the blood vessels with each pump of the heart.
The second, diastolic, reading measures the "resting" pressure between pumps.
High blood pressure is defined as a systolic reading higher than 140 millimetres of mercury (mmHg) and a diastolic reading higher than 90 mmHg.
Ideally, blood pressure should not be higher than 120/80 mmHg.
Research has shown that the risk of death from ischaemic (caused by lack of blood supply) heart disease and stroke doubles with every 20 mmHg systolic or 10 mmHg diastolic rise from middle age onwards.
The new study, the biggest of its kind ever conducted, involved the World Health Organisation and hundreds of scientists around the world.
Data from the blood pressure measurements of nearly 20 million people were analysed.
The most striking findings were the soaring rates of hypertension in low and middle-income countries in southern Asia and sub-Saharan Africa, and the big reductions in developed countries.
High blood pressure remained a serious problem in some central and eastern European countries, such as Hungary, Slovenia and Lithuania.
Over the past 40 years, the world's highest average blood pressure levels had shifted from high-income Western and Asia-Pacific countries, such as Japan, to low and middle-income countries in sub-Saharan Africa, southern Asia and some Pacific island nations.
The study showed that the WHO's target of reducing global high blood pressure prevalence by a quarter by 2025 was unlikely to be achieved without more effective policies focused on the poorest parts of the world.
Suggested strategies included helping people to have healthier diets - especially by reducing salt intake and making fruit and vegetables more affordable - as well as improving the detection and treatment of hypertension.