A report by the National Transport Authority says that Iarnród Éireann needs an additional €103m per year over the next five years for services to survive.
The Railway Review Report 2016 has projected a funding gap of over €500m between 2017-2021. 
However, Iarnród Éireann CEO David Franks said that figure rises to more than €600m if it is to try and repair the balance sheet and continue existing services.
The report says that rural rail lines may have to close unless there is significant State investment.
Among those under threat are the Limerick to Ballybrophy, Limerick Junction to Waterford, and Ennis to Athenry lines as well as part of the Wexford line.
In a worse case scenario, this would leave only the Dart, Dublin and Cork commuter routes and inter-city services from Dublin to Cork, Belfast and Limerick in operation.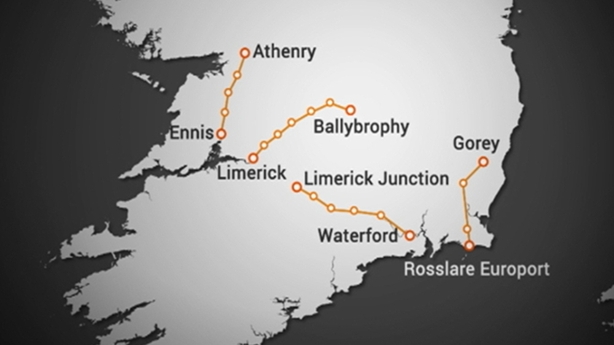 The report has concluded that the under funding of Iarnród Éireann cannot continue indefinitely as there is a significant backlog of maintenance and renewal activity.
It says essential works have been deferred and this has meant an ever-increasing emphasis on reactive maintenance across tracks, bridges and signals.
This will lead to an increase in temporary speed restrictions and sporadic equipment failures, which will result in an increase in journey times/decreasing service reliability, it says.
All of this, the report says, has significant repercussions for the profitability and viability of Iarnród Éireann.
We need your consent to load this rte-player contentWe use rte-player to manage extra content that can set cookies on your device and collect data about your activity. Please review their details and accept them to load the content.Manage Preferences

It says the train operator cannot continue to subsidise the Public Service Obligation through commercial activities, and the fleet heavy maintenance costs must be funded by the Exchequer. 
Iarnród Éireann is approaching full capacity on its fleet and is close to exhausting all avenues to provide additional capacity, the report indicates.
Increased fleet capacity is required to enable Iarnród Éireann to provide additional services and to meet increased customer demand into the future.
This in turn will contribute to revenue growth and an increased contribution by the railway to more sustainable development and environmental improvements.
It says a short window of opportunity to repair the balance sheet exists. Iarnród Éireann can be compensated for losses incurred due to under funding since 2010.
However, once a new public services contract is signed in 2019, the legacy losses can no longer be funded through the public service contract.
Iarnród Éireann will be restricted to reasonable profit under regulations.  Alternatively it would require in excess of 30 years reasonable profits to restore shareholder funds to a reasonable level.
Following the publication of the report a public consultation will open so interest groups can give feedback on areas of priority.
Meanwhile, the CEO of the National Transport Authority has said there is a cost associated with rail services in less densely populated areas, adding the NTA is putting forward bus services as a potentially more appropriate model in these areas.
Speaking to RTÉ's Drivetime, Anne Graham said that if funding is not found to maintain rail infrastructure, the impact could be a reduction in the number of services.
"You could find that journey times could get longer and there might be less services running on those lines so, obviously, then it becomes less attractive for the travelling public and you might see the passenger numbers reducing accordingly," she said.