Fighters from the so-called Islamic State have executed scores more people around Mosul this week and are reportedly stockpiling ammonia and sulphur in civilian areas, possibly for use as chemical weapons, the UN has said.
A mass grave with over 100 bodies found in the town of Hammam al-Alil was one of several Islamic State killing grounds, UN human rights spokeswoman Ravina Shamdasani said, citing information gleaned from sources on the ground including a man who played dead during a mass execution.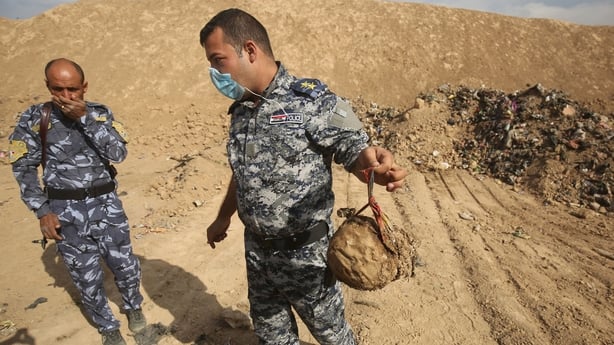 Public executions were being carried out for "treason and collaboration" with Iraqi forces trying to recapture the city, or for the use of banned mobile phones or desertion.
People with explosive belts, possibly teenagers or young boys, were being deployed in the alleys of Old Mosul, while abducted women were being "distributed" to fighters or told they would be used to accompany Islamic State convoys, she said.
Elite Iraqi troops battle IS on Mosul streets
Troops of Iraq's elite Counter-Terrorism Service have resumed their offensive against the Islamic State group on the streets of Mosul after several days of relative quiet, officers said.
The battle to retake the city, the jihadists' last major bastion in Iraq, is now in its fourth week, and while troops have pushed into the built-up area, there are weeks, if not months, of fighting still to go.
"Our forces have begun the attack on Arbajiyah. The clashes are ongoing," Staff Lieutenant Colonel Muntadhar Salem said, referring to an area in the east of the city.
The fighting came "after a few days of quiet," he said.
Iraqi forces launched a huge operation to retake Mosul on 17 October, with federal and Kurdish regional forces closing in on the city from three sides.
Pro-government paramilitaries later began an advance on the town of Tal Afar, which commands the city's western approaches, with the goal of cutting the jihadists off from territory they control in neighbouring Syria.
IS overran large areas north and west of Baghdad in June 2014, but Iraqi forces backed by US-led air strikes have since regained significant ground.