Minister for Health Simon Harris has said he is "furious" over a HSE memo that said nurses could remove patients from beds "as trespassers" using minimum force in order to free up acute beds for patients who need them.
The Health Service Executive's National Director of Acute Hospitals, Liam Woods, has apologised for any concern caused by the memo for hospital managers, which was seen by RTÉ News.
The memo was written by the HSE's legal advisors and issued to Mr Woods on 11 October.
It says that given the country has entered the flu season and there is likely to be a greater demand on acute hospital beds, the HSE's contracted legal firms are ready and capable of assisting any hospital which may have difficulties in freeing up hospital beds "where patients are incapable or unwilling to give up those beds".
The HSE said this morning that the memo was withdrawn on 28 October as it was deemed inappropriate by Mr Woods.
In a statement this evening, a Department of Health spokesperson said the HSE memo came to Minister Harris's attention on 27 October.
It said the minister was "furious" over its content, nature and tone and he asked for it to be withdrawn by the HSE.
Speaking on RTÉ's Drivetime, Mr Woods said the information contained in the memo is not HSE policy.
Mr Woods described the memo as a briefing note which was only intended for senior managers.
He said he did not request the legal advice, but that it "became available" when a citizen asked questions and the HSE legal department prepared the memo. 
Mr Woods said the note was rescinded when he became aware that it was available at hospital and staff level.
He said it is regrettable the memo was circulated to hospitals and said no patient was removed as a trespasser from their bed during this time.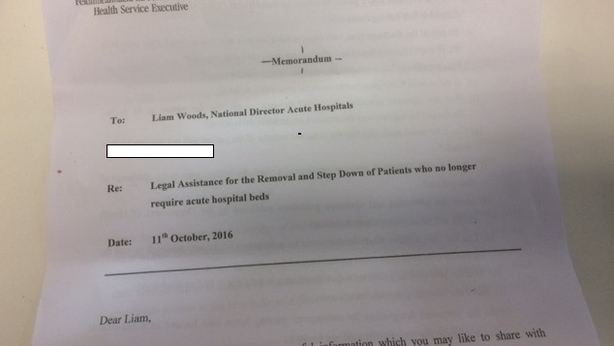 General Secretary of the The Irish Nurses and Midwives Organisation Liam Doran said no nurse will use any force to remove a patient from a bed, adding that patients are sacred and INMO members know their first priority is to their patients.
He said he was first made aware of the document two weeks ago, believing it to have been circulated across the health system.
He added he was surprised by the tone and the callousness of the text used and said it confirms the health system has lost its soul and any empathy to the patient.
The memo outlines how hospitals can remove and "step down" patients who no longer need acute beds, but are unable or unwilling to give them up.
It says that a patient's right to be on a hospital premises "is merely a licence and once that has been abused, the nurse is also legally entitled to remove the person as a trespass, using minimum force to do so".
Fully agree with Liam Doran on this one - that memo was utterly offensive & unacceptable. It has been rescinded by the HSE. @RTENewsAtOne

— Simon Harris TD (@SimonHarrisTD) November 9, 2016
The memo says that the Health Acts would allow a nurse to remove the patient from a bed into a discharge lounge.
The document goes on to list the contact duty solicitor for each of the country's hospital groups to assist in removing patients from beds.
It says that in the case of patients who are capable but unwilling to leave their acute hospital bed, the delay in such patients leaving their acute bed can have an adverse consequence on other patients who may need that bed on medical grounds.
The HSE memo says that unlike with education, there is no express right to free health services in the Constitution.
It says that a hospital cannot be treated as a place of convalescence by a patient, as an acute hospital's primary function is to treat urgent medical conditions in a system of priorities set out by the management of the hospital.
We need your consent to load this rte-player contentWe use rte-player to manage extra content that can set cookies on your device and collect data about your activity. Please review their details and accept them to load the content.Manage Preferences
Latest figures from the HSE show there are around 546 delayed discharges - patients occupying beds when their acute care has ended - in acute hospitals.
In a statement, the INMO said it had received a number of queries regarding the legal advice provided by the HSE, particularly with regard to circumstances whereby a nurse may remove patient refusing to leave a hospital bed "using minimum force".
INMO Director of Regulation and Social Policy Edward Mathews said no nurse or midwife should use any force to remove any patient from a bed under any circumstances.
He said: "While the legal advice provided by the HSE addresses the legality of the use of force, in the context of non-fatal offences against the persons, it in no way addresses the professional obligations of a nurse or midwife".  
He added: "This Organisation believes that it is immoral to suggest that a professional, who enjoys a trusting and caring relationship with a patient, should at any time use force to remove that patient from their bed against their will."  
He said it would also be a breach of the code of professional conduct of the Nursing and Midwifery Board of Ireland.
Mr Mathews said the INMO raised the issue when it became aware of the advice and was told it had been withdrawn "however, we have continued to receive enquiries."
He said that having raised the matter again with the HSE, it "indicated that the legal advice is withdrawn".
Minister for Health Simon Harris has criticised the memo.