Brexit Secretary David Davis has insisted the British government remains on track to begin leaving the European Union by April despite legal wrangling over whether parliament must approve the decision first.
Mr Davis said the Supreme Court is expected to hear in early December the government's appeal against a High Court ruling that it must get parliamentary approval before triggering Article 50 of the European treaties.
His statement to the House of Commons came after Downing Street refused to deny reports that ministers were already drafting legislation to give MPs and peers a say over the triggering of Brexit.
Mr Davis insisted that whatever the Supreme Court decides, the government remains on course to deliver on the timetable promised by Prime Minister Theresa May.
He told MPs: "It's likely that any hearing will be scheduled in the Supreme Court in early December. We would hope the judgment would be provided soon after.
"This timetable remains consistent with our aim to trigger Article 50 by the end of March next year."
Mr Davis lashed out at attempts by opposition MPs, including former deputy prime minister Nick Clegg, to secure a second referendum, claiming they were attempting to "thwart" Brexit.
He said a fresh plebiscite on the terms of exit would encourage the rest of the EU to impose "impossibly difficult conditions" in an attempt to ensure a vote to reverse the Leave decision.
"In other words, the whole approach is designed to wreck the negotiations," he said.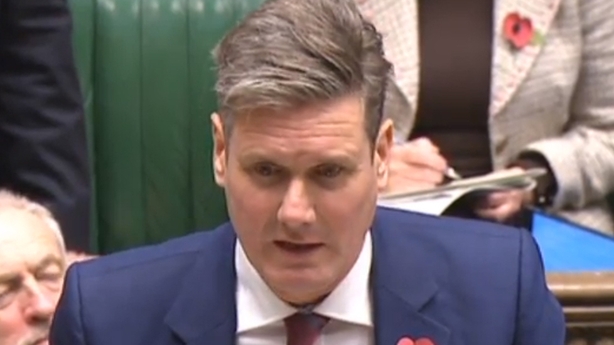 Shadow Brexit secretary Keir Starmer said the government had refused to set out how it would respond if it lost the appeal.
He said he did not expect Ms May to reveal her negotiating hand but there were issues such as the single market and customs union where ministers should set out their stance.
He said the government's approach was "unravelling" in an "ugly way" - stepping up his attack on ministers over the treatment of the judiciary following the High Court ruling.
"We saw a series of appalling personal attacks on the judges, including the suggestion that they were enemies of the people," he said.
Mr Starmer, a former director of public prosecutions, said Lord Chancellor Liz Truss had been "too slow and too reluctant" to defend the judiciary.
Mr Davis used his statement to insist that "we believe in and value the independence of our judiciary" but also defended the freedom of the press.
"Both these things underpin our democracy," he said.
Meanwhile, a study by the Department of Finance and the Economic and Social Research Institute has found that a hard Brexit would permanently damage Ireland, reducing the size of the economy by almost 4% and causing a rise of almost 2% in unemployment.