Almost 13% of the population of greater Dublin is deficient in Vitamin D, according to a new study by researchers at Trinity College Dublin and St James' Hospital.
Researchers have visually mapped, for the first time, the Vitamin D status of the capital's inhabitants.
The visualisation shows great variation in the levels of deficiency across the city, with noticeable differences in particular areas.
Vitamin D can be provided by UV-B radiation from the sun, as well as certain foods and supplements.
Deficiency is associated with musculoskeletal and bone health conditions such as rheumatoid arthritis and osteoporosis, and may also be a risk factor in other conditions such as heart disease, type-2 diabetes, cancer and inflammatory conditions.
The most social economically deprived and ethnically diverse urban locations, as well as Dublin 8 and Lucan, had deficiency rates of 25% - the highest across the region and double the average rate for the Dublin area as a whole.
Dublin 16 during the summer months had the lowest rates of deficiency at 5%, while during the winter the lowest rate was found in Kildare at 7.6%.
Summer months below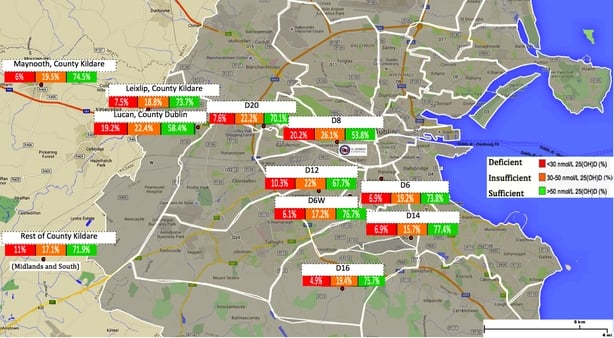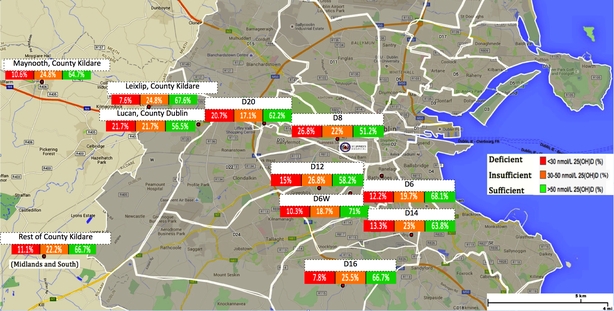 Winter months above
Those aged between 18 and 50 had lower levels of the vitamin in their bodies than those aged over 50 during both summer and winter.
"Other studies have shown an association between social deprivation and lower vitamin D, possibly due to diet as vitamin D-rich foods, such as oily fish or fortified foods, tend to be more expensive," said Dr Eamon Laird, author of the study and Research Fellow at the Centre for Medical Gerontology at TCD.
"Also, these locations in Dublin are more ethnically diverse compared to other areas, with higher numbers of non-Caucasians.
"Increased skin pigmentation plus ethnic lifestyle choices such as traditional clothing and/or dietary habits can also increase the risk of deficiency."
Overall the deficiency rate across the greater Dublin areas is, however, similar to that found in a large recent study of European adults.
Those behind the research say such studies can help with the identification of those most at risk, which can help with the formulation of public health policy.
The publication of the research coincides with international Vitamin D awareness day, today 2 November.
The study involved carrying out traditional research on 5,200 individuals, and combining that with geo-mapping techniques.